Four More In China Confirmed With H7N9 Bird Flu, State Media Confirms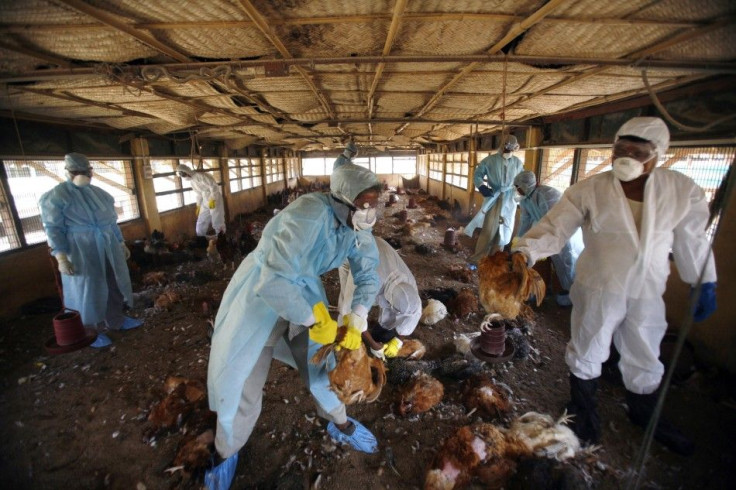 Four people in east China's Jiangsu Province have confirmed to be infected with the H7N9 strain of the bird flu virus.
According to China's state-run Xinhua News Agency, a total of seven people have been infected with the new, lesser-known H7N9 avian influenza disease in China. Xinhua is also reporting that the Jiangsu province health bureau announced that all four new cases in the province were found in four different cities and are receiving emergency treatment and are in critical condition.
The International Business Times Chinese edition reports that an additional 167 people who were in close contact with the patients are undergoing medical observation.
One patient, identified only as Xu, is a 45-year-old who has been in close contact with live poultry. IBTimes Chinese edition reports that Xu was experiencing a fever and other symptoms, such as dizziness, body aches and fatigue, as early as March 19. On March 27, Xu was admitted to the Nanjing ICU for treatment. On Tuesday, a review by China's Center for Disease Control confirmed that Xu was infected with the H7N9 avian influenza virus.
The other patients -- another female, 48; a male, 83; and female, 32 -- were also all confirmed by China's CDC to have contracted the new H7N9 bird flu strain, after displaying various symptoms for several days and undergoing a series of tests.
The most recent cases come two days after the first human cases of this strain were found in two Shanghai residents, who died from the disease, and another in Anhui province, who remains in critical condition.
According to China's Health Ministry website, the two Shanghai residents were both male, ages 87 and 27. The men began seeing symptoms in late February and died in early March before authorities could confirm their cause of death to be from the H7N9 bird flu virus.
© Copyright IBTimes 2023. All rights reserved.