Four Signs The Global Economy Is Slowing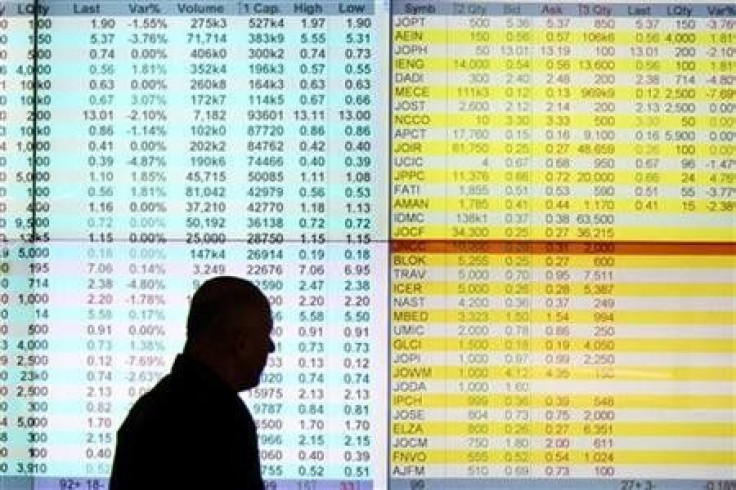 Winter is coming, and the global economy is at risk of feeling the chill as the euro zone remains turbulent and the U.S. faces tough budget decisions at the end of the year. Although most analysts don't expect an outright recession, four reports on Tuesday demonstrate the fragility of any recovery.
FedEx Lowers Forecast
FedEx Corp. (NYSE: FDX) reported a fiscal first quarter profit of $459 million, or $1.45 per share, down 1 percent from $464 million, or $1.46, in the year-prior quarter. The result beat a Reuters forecast of profit fof $1.40 per share, but FedEx lowered its full year profit forecast for fiscal 2013 to $6.20 to $6.60 per share, down from a prior estimate of $6.90 to $7.40 per share.
As we announced on Sept. 4, weakness in the global economy constrained revenue growth at FedEx Express during our first quarter and affected our earnings, Frederick Smith, FedEx's chairman and CEO said in a statement. We are taking further actions to reduce costs and adjust our networks to match current and anticipated shipment volumes.
FedEx's results are seen as a bellweather of consumer activity, because it is the second-largest shipping company and a significant part of its business is shopping deliveries. Shares of FedEx fell $2.61, or to $86. in Tuesday afternoon trading.
German Stagation Predicted
Germany is the euro zone's largest economy and remains its healthiest. But Germany's ZEW investor confidence survey remained negative in September, indicating that the majority of respondents believe the economy will weaken in the next six months. The index rose to -18.2 from -25.5, which beat expectations, but remained gloomy.
Jennifer McKeown, senior European economist of Capital Economics, expects Germany's GDP to fall by around 1 percent next year following a small increase this year as its exports fall.
The ZEW index did indicate that German investors felt better about the entire euro zone region following the European Central Bank's move to buy bonds from troubled countries like Spain and Italy. The component measuring euro zone sentiment rose sharply to -3.8 from 21.2.
Oil Down
Oil futures dropped on Tuesday, reversing last weeks gains as more investors were concerned about economic slowdowns, particularly in the wake of the Federal Reserve Bank of New York's weak Empire State manufacturing index report released on Monday. Manufacturing contracted to -10.4 from -5.9 in September, rather than the improvement to 0.0 that was expected.
On Tuesday afternoon, crude oil for October delivery was down $1.12 cents, or 1.16 percent, to $95.50 per barrel on the New York Mercantile Exchange. Brent crude for November fell $1.61, or 1.42 percent, to $112.08.
Supply has outpaced expectations due to the milder impact of Hurricane Isaac on Gulf region production. The Obama administration has said opening its strategic petroleum reserves is an option, but it hasn't committed to doing so. Military conflict between Iran and Israel would greatly tighten supply and send costs soaring.
Governments Needed To Escape Twilight Zone
Joachim Fels, chief economist at Morgan Stanley, told Bloomberg that the global economy was in a Twilight Zone between more recession and expansion. The intervention of the Federal Reserve to enact a third round of quantitative easing and European Central Bank have lifted stocks in the short-term, but long-term growth will require tough government choices, said Fels.
Central banks have steered us from recession, but on their own they can't bring us into sustainable recovery," he told Bloomberg. "To get out of the twilight zone takes government action."
These include Spain and Italy being willing to accept aid in exchange for economic oversight in the euro zone, as well as the looming U.S. fiscal cliff, with $600 billion in spending cuts and expiring tax cuts due in January
© Copyright IBTimes 2023. All rights reserved.