Freddie Gray Trial Update: Judge Denies Venue Change Motion As Police Clash With Protesters Outside Courthouse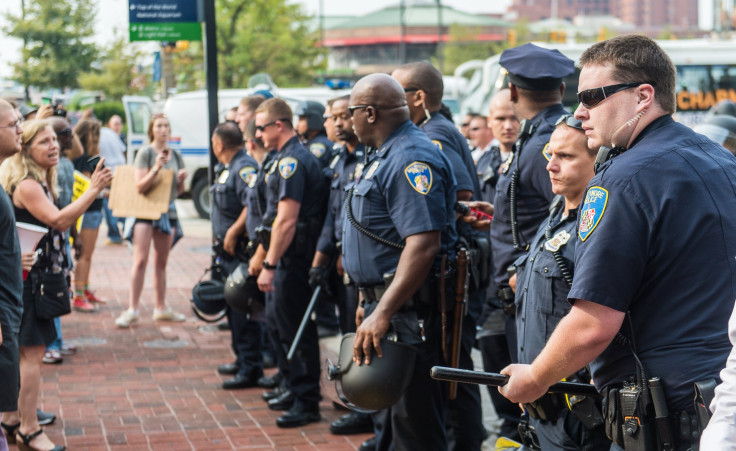 A judge in Baltimore denied Thursday a trial venue change request brought by attorneys for six police officers charged in the April death of Freddie Gray Jr. As the second day of pretrial hearings began in the Gray case, protests outside of the Circuit Court for Baltimore City Courthouse East resulted in at least one activist's arrest Thursday morning, according to messages from Twitter users on the scene.
Circuit Judge Barry Williams considered whether riots and mass protests in late April in Baltimore sparked by Gray's death and intense publicity of the case merited a venue change, the Baltimore Sun reported. Last week, Williams ordered individual trials for the six officers facing charges that range from "depraved heart murder" to official misconduct. He also denied a request by attorneys to have Baltimore City state's attorney Marilyn Mosby removed as the case's prosecutor over allegations of bias and conflict of interest.
Gray died April 19, a week after suffering severe neck and spinal injuries while in police custody. The involved police officers are Caesar R. Goodson, William G. Porter, Lt. Brian W. Rice, Sgt. Alicia D. White, Edward M. Nero and Garrett E. Mille. All six have pleaded not guilty.
City officials' approval this week of a $6.4 million settlement brought by Gray's family raised doubts among police union leaders that the officers would received a fair trial in Baltimore. "Where are you going to get a juror in this city that hasn't been tainted by this settlement and the media coverage?" Gene Ryan, president of local Fraternal Order of Police, told the Baltimore Sun. "Where are you going to get a just, unbiased and fair juror out of this pool?"
Kwame Rose, a Baltimore activist arrested in protests outside of the courthouse last week, said police had arrested a local pastor in demonstrations Thursday morning. Other people at the courthouse posted messages to Twitter indicating that activists were peaceful.
Number of People Killed by Police by State in 2015 | FindTheBest
© Copyright IBTimes 2023. All rights reserved.