French President Francois Hollande Declares National Day Of Mourning After Charlie Hebdo Shooting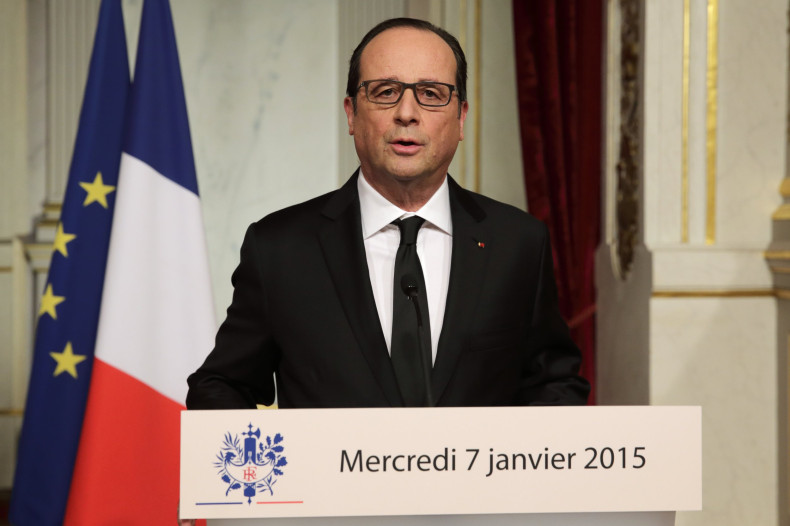 French President François Hollande declared Thursday a national day of mourning for the 12 individuals killed Wednesday when three hooded gunmen opened fire outside satirical newspaper Charlie Hebdo's headquarters in Paris. French flags will fly at half-staff for the next three days in honor of the victims, he said.
"This was an attack on freedom. We must be ourselves, and we must realize our best weapon is our unity. Nothing must separate us or drive us apart," Hollande said in a national address Wednesday, according to Euronews. "France is a great nation when under pressure. We are stronger than our enemies when we are together."
Hollande condemned the attack, which left several Charlie Hebdo staffers and two policemen dead, as "cowardly murder," according to the BBC. A massive manhunt is underway in France to capture the unidentified gunmen, who fled the scene of the attack in a stolen car and remained at large as of Wednesday afternoon. France has heightened its terror alert and stepped up security measures nationwide as a result of the attack. The attackers purportedly targeted Charlie Hebdo due to its satirical depiction of the Prophet Muhammad in cartoons in its weekly publication.
The gunmen toted assault rifles, shotguns and at least one rocket launcher during the attack, reportedly shouting "Allahu akbar" and other Arabic epithets as they fired. Multiple reports said the attackers yelled "we have avenged the Prophet Muhammad" during the attack. No group has yet claimed responsibility for the shooting, which Hollande described as a "terrorist attack" earlier Wednesday.
Demonstrators flocked to Paris' Place de la République Wednesday night to mourn the attack's victims and express support for freedom of the press. Attendees carried pens and candles to the mostly silent vigil, which was occasionally punctuated by chants of "Charlie, Charlie" in honor of the targeted publication. The phrase "Je Suis Charlie," or "I Am Charlie" became the movement's unofficial rallying cry.
© Copyright IBTimes 2022. All rights reserved.