Gadhafi Buried in Secret Desert Location: NTC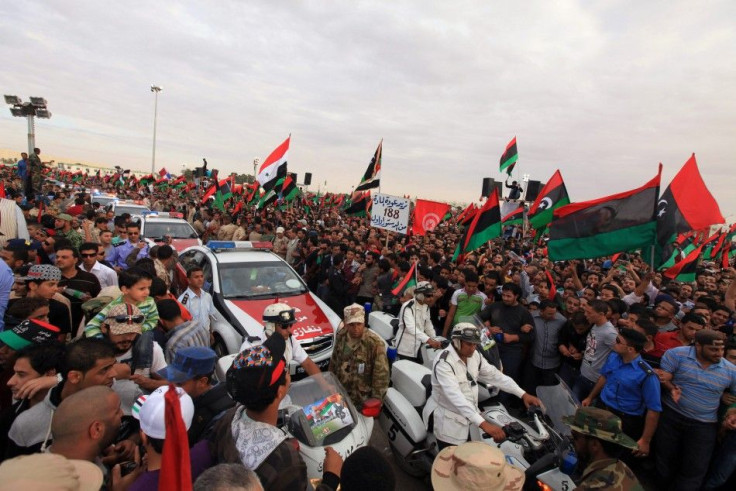 Two trusted loyalists of Libya's interim government were handed Muammar Gadhafi's body to bury secretly deep in the Sahara desert on Tuesday after a cleric prayed over his decomposing corpse, an official said.
The National Transitional Council had disquieted many outsiders by putting the bodies of Gadhafi and his son Mo'tassim on show in a meat locker in the coastal city of Misrata until their decay forced them Monday to close the doors.
Under pressure from Western allies, the NTC promised on Monday to investigate how Gadhafi and his son were killed -- graphic mobile phone footage shows both alive after their capture. The former Libyan leader was seen being mocked and beaten before he was shot, in what NTC officials say was crossfire.
The process leading to his burial is taking place now, NTC official Abdel Majid Mlegta told Reuters by telephone from Libya. Only two trusted people were assigned to this secret mission. These are not guards, but very trusted NTC people.
Final Islamic prayers were said over the two bodies by Gadhafi's personal cleric Khaled Tantoush, who was arrested with him, before they were removed from the Misrata compound where Libyans had filed past their ex-strongman sprawled on a mattress in what became a grim parody of the lying-in-state ceremony.
The last Muslim rites were also attended by two of Gadhafi's cousins, Mansour Dhao Ibrahim, once leader of the feared People's Guard, and Ahmed Ibrahim, who were both captured with Gadhafi after their convoy was attacked in a NATO air strike near Sirte, Gadhafi's home town, just after it had fallen.
The NTC officials were handed the body after the sheikh completed the early morning ceremony and are taking him somewhere very far away into the desert, Mlegta said, without saying where.
Trust me, it takes time and the burial will take place far away from the media.
ANONYMOUS GRAVE
The NTC leadership appears to have decided that an anonymous grave would at least ensure the plot did not become a shrine.
The killing of the 69-year-old Gadhafi ended eight months of war, finally ending a nervous two-month hiatus since the NTC's motley forces overran the capital Tripoli.
But it also threatened to lay bare the regional and tribal rivalries that present the NTC with its biggest challenge.
An NTC official had told Reuters several days ago that officials entrusted with the burial would all have to swear on the Quran never to reveal its location.
At times, Gadhafi's body appeared to have become a macabre bargaining chip for Libya's long-besieged city of Misrata, whose war leaders want a bigger say in the peace.
NTC officials had spoken of talks with Gadhafi's tribal kinsmen from Sirte and within the interim leadership over where and how to dispose of the body, and on what Misrata leaders in possession of the corpse might get in return for cooperation.
Fears in the NTC that Gadhafi's sons might mount an insurgency have been largely allayed by the death of the two who wielded the most power, military commander Khamis and Mo'tassim.
(Writing by Peter Millership; Editing by Alistair Lyon)
© Copyright Thomson Reuters 2023. All rights reserved.