Gadhafi Surrounded, But 'Ready to Fight'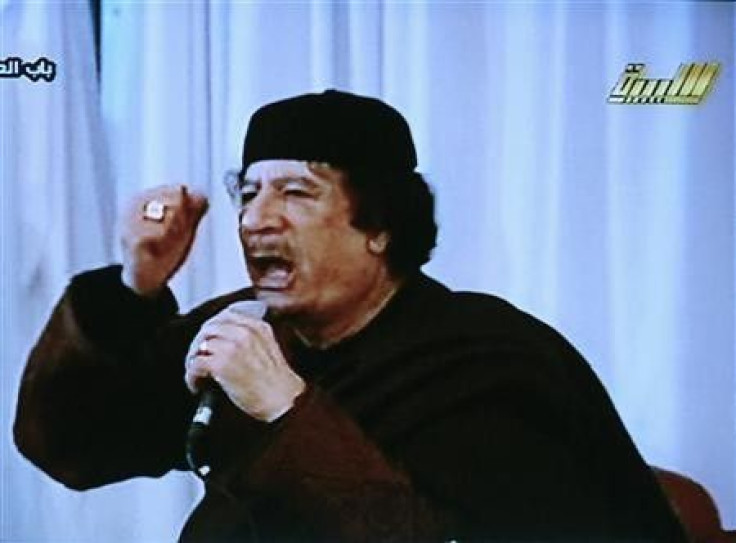 Defiant to the last, Moammar Gadhafi said on Thursday that he is ready to start the fight in Tripoli and everywhere else.
In another audio address delivered to Syria's Al-Rai TV, Gadhafi verbally attacked the rebels who are now in control of most of Libya.
"All of these germs, rats and scumbags, they are not Libyans, ask anyone. They have cooperated with NATO, he said, referring to the revolutionary force.
The National Transitional Council -- the rebels' interim government -- on Wednesday claimed that they had Gadhafi surrounded, although they didn't say where.
The rebels are currently in a fierce battle with loyalists over the city of Bani Walid, one of the last pro-Gadhafi bastions left in the country. According to the N.T.C., several high ranking officials from the Gadhafi regime are bunkered in the city, including possibly Gadhafi's son Saif al-Islam, who was once considered the Libyan heir-apparent.
Perhaps invigorated by Gadhafi's five-minute speech, loyalists launched an aggressive counter-attack in Bani Walid hours after the ousted leader's address. From inside the city, pro-Gadhafi forces sent Grad rockets sailing toward the rebels outside.
In his soliloquy, Gadhafi once again vowed that he would never leave Libya, a promise it seems he aims to keep.
"Gadhafi won't leave the land of his ancestors," he said, referring to himself in the third person.
His wife, daughter and at least two of his seven sons have already escaped into neighboring Algeria, which has since closed its border. His cousin, General Mansour Daw, who was part of Gadhafi's inner circle, is on a convoy currently traveling through Niger. He is thought to be with a handful of other Libyan officials, as well as Nigerien Tuareg mercenaries returning home from Libya.
Daw could be heading to Burkina Faso to the west, but the Burkinabe government has made it clear that Gadhafi is not welcome.
The Libyan revolution began in February, when Libyan protestors took up arms in response to being shot at by government troops. With air-support from NATO, the rebels took the capital of Tripoli in August, scattering Gadhafi and his loyalists.
Gadhafi ruled Libya for over 40 years. Two of his sons were reportedly killed in the conflict, and at least two are still thought to be in Libya.
© Copyright IBTimes 2023. All rights reserved.