Game On LeBron James: Rapper Says Michael Jordan And Kobe Bryant Are Better NBA Players
Everyone wants to know who the greatest NBA player of all time is. The conversation is always happening, between fans, sports talking heads and even rappers. Superstar athlete LeBron James is no stranger to all-time great comparisons and often gets likened to Michael Jordan and Kobe Bryant. But who is a fair comparison to James?
The celebratory confetti got released in the Oracle Arena in Oakland on Monday, and the Larry O' Brien trophy was handed over to the 2017 NBA champions, the Golden State Warriors. And the conversations concerning James' legacy intensified.
Rapper Game chimed in on the conversation saying that James legacy is "tarnished" and that this NBA Finals defeat places Michael Jordan and Kobe Bryant ahead of him on the all-time greats list. James overall finals record stands at 3-5.
READ: Does LeBron James Think That Super Teams Exist in the NBA?
"Kevin Durant being on Golden State was the x-factor. The best player in the world is Michael Jordan, after that it's Kobe, in order of appearance." Game told TMZ. "Kobe and Mike never lost in the finals." When asked if it tarnished his legacy, Game agreed.
Game isn't the first celebrity to give his two cents regarding James' status on the all-time greats list. Retired NBA champion Scottie Pippen doesn't think that James has surpassed Bryant at all. He believes that James shouldn't even be compared to Bryant or Jordan for that matter.
"They play different positions. Kobe and Michael are both two guards; they're scorers," Pippen said during an ESPN interview in May. "They're mostly like a Kyrie, they're trying to score the basketball, they're not looking to make plays for anybody on the floor. That's the role that LeBron plays because he's such a dominant and powerful force, he's a great passer."
Pippen went on to say that James is best compared to NBA Hall of Famer Erving "Magic" Johnson.
"I like to compare him to Magic. I think he plays a lot more like Magic. A lot more like myself, how I played. Obviously, he's more dominant than both me and Magic because of the way that he plays the game — his physicality, and his athleticism surpasses Magic, as well as me," he said.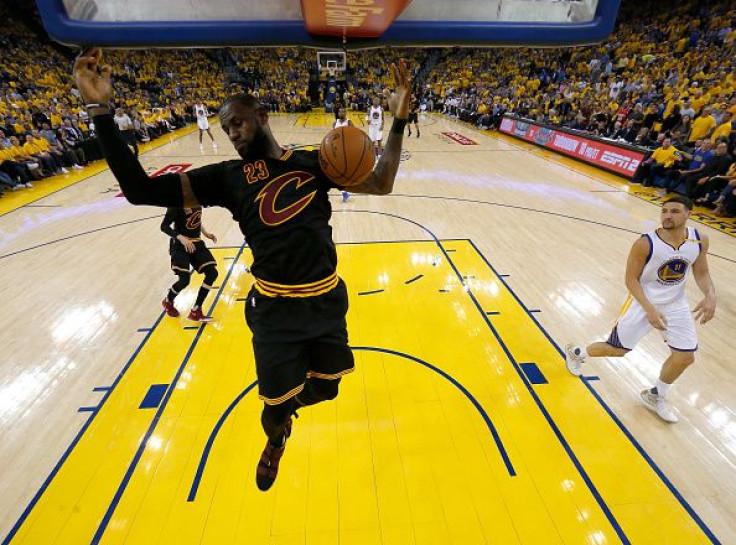 Pippen has often likened James' game to his. The former Bulls player made the comparison a few years back, saying, "I was LeBron James before LeBron James," he said.
According to statistics from Basketball-Reference, James was also more efficient shooting from the field, with a higher field goal percentage than Bryant. And he also carries some pretty impressive stats in blocks, rebounds, assists, and steals.
READ: 2017 NBA Finals: Warriors Plan A Parade Downtown Oakland And It Could Be The Biggest Yet
Moreover, James has a better career scoring average in the regular season and postseason respectively. James has notched more overall playoffs points compared to Bryant, in spite of having played way fewer games.
Hall of Famer Magic Johnson averaged 18.6 points, eight rebounds and 12.4 assists a game in the 1991 NBA Finals games versus the Chicago Bulls. He almost averaged a triple-double but fell short in the rebounding category.
James, on the other hand, set the record as he is the only player in history to record a triple-double in the NBA Finals.
© Copyright IBTimes 2023. All rights reserved.