Garland Shooting: North Texas Muslim Community Had Concerns Before 'Draw Muhammad' Event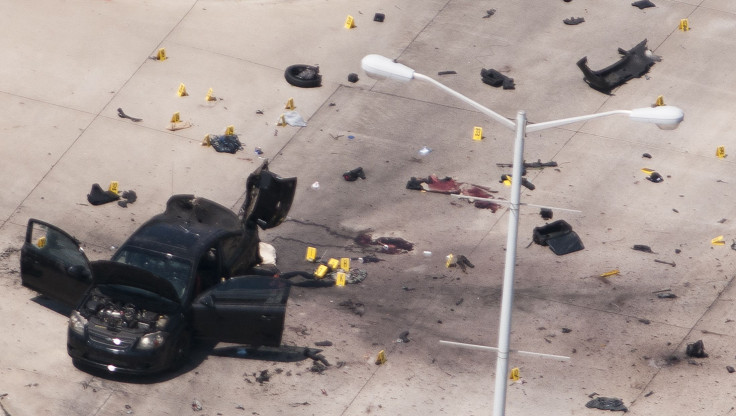 In February, when a national anti-Islam group booked a conference center in Garland, Texas, for a so-called "Draw Muhammad" cartoon contest, Muslim leaders in North Texas became concerned. But instead of staging a rally against the event, they silently watched from afar, hoping to avoid drawing attention to the group or its contest, which was scheduled for May 3.
"We went on with business as usual," said Alia Salem, the Dallas-Fort Worth area director of the Council on American-Islamic Relations (CAIR).
Then two gunmen opened fire Sunday at the contest hosted by the American Freedom Defense Institute. The bloodshed came four months after an anti-Islam hate rally broke out during a Muslim event held at the Curtis Culwell Center in Garland in January.
Both events were seen as setbacks for Muslims in North Texas who have been working to improve the broader community's understanding of Islam, Salem said.
'Answered With Hatred'
"From a human standpoint, it's a no-brainer to condemn these actions. But we also, as a community, have to be responsible for what we're allowing in our community," Salem said in a phone interview Monday. "It was basically an invitation to hatred that was answered with hatred."
The American Freedom Defense Institute, a New York group, held its inaugural "Muhammad Art Exhibit and Contest" Sunday in Texas with a $10,000 top prize for the best caricature of the Prophet Muhammad. The New York organization is considered a hate group by the Southern Poverty Law Center, a watchdog organization.
Drawings of the Prophet Muhammad are widely seen as offensive to Muslims, whose religion teaches against idolatry.
Police said two gunmen from Phoenix, with suspected links to Islamist extremists, opened fire outside the Culwell Center, around 6:50 p.m. local time Sunday. They shot an event security guard in a leg before a Garland police officer returned fire and killed them, authorities said.
Nasim Rehmatullah, national vice president of Ahmadiyya Muslim Community USA, criticized the Garland shooting. "Violence is never an acceptable response to hate speech, no matter how inflammatory and uncivilized that speech is," he said. "While we do not yet know what motivated these shooters, we urge calm and defer to local, state, and federal authorities to peaceably and justly resolve this."
In North Texas, there are roughly 150,000 Muslims and about 30 active mosques, Salem said. The American Freedom Defense Institute had been closely watched by the community before it announced the Garland event.
Pamela Geller, co-founder and executive director of AFDI, first gained notoriety for anti-Muslim rhetoric when she led a 2011 campaign against a mosque and community center that was planned for construction near the site of the Sept. 11, 2001, terror attacks in New York City. Geller's group was incorporated as a nonprofit in 2010, listing itself as "an educational organization designed to defend constitutional principles against academic, cultural, sociological, and other attacks upon them," ABC News reported.
Last month, Geller made national news for buying bus and train ads that read "Killing Jews is worship that draws us close to Allah." Geller successfully sued New York City's Metropolitan Transit Authority to be allowed to display the ads. But Geller otherwise had been relatively quiet leading up to Sunday's cartoon contest, said Heidi Beirich, director of the Southern Poverty Law Center's hate group intelligence project.
'Absolutely Unacceptable'
"While Geller has always been a lightning rod when it comes to the Muslim community in the United States, I hadn't seen anyone raising issue with this event prior to Sunday," Beirich said, adding that the SPLC has been tracking Geller's activities since 2010. "This attack [on the event] is absolutely unacceptable. It's also unacceptable to spend your time spreading lies about Muslims. It opens the community up to hate crime violence."
CAIR's national spokesman, Ibrahim Hooper, in a phone interview, called Geller the "godmother" of anti-Islamic hate speech in the U.S.
Geller told the New York Times that she organized the Garland event after Muslim leaders gathered at the community center in January to discuss the terror attack targeting satirical magazine Charlie Hebdo in Paris in January, when gunmen killed 12 people for cartoons depicting Muhammad. Salem said the Muslim community event at the Culwell Center was organized after local Muslims expressed fears about anti-Islam rhetoric and attacks in the wake of the Paris attack.
Texas has seen tense relations between Muslim-Americans and their critics for months. In January, Muslims gathered in Austin to education state lawmakers, but their efforts were disrupted by anti-Islam protesters, including one who snatched the microphone from Muslim speakers during a rally. On Monday, a state Senate committee had scheduled a hearing on an "anti-Shariah law" bill that had already passed the Texas House of Representatives.
Nationally, American Muslim advocates said Muslims and non-Muslims must be aggressive in preventing hostility and mistrust between their communities. "People of goodwill must work together to ensure that extremists of all faiths and backgrounds do not accomplish that malevolent goal," the national CAIR officer said in a statement Monday. "We reiterate the American Muslim community's support for freedom of speech -- even bigoted speech -- and its repudiation of terrorism in any form."
© Copyright IBTimes 2023. All rights reserved.