Gay Marriage Supreme Court 2015: Ex-Military Members, Groups File Briefs Supporting Same-Sex Marriage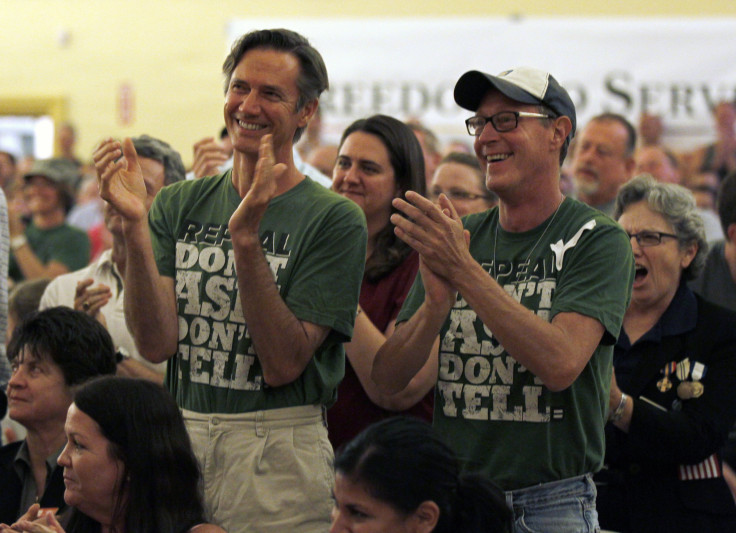 Retired military officers and groups that support gay inclusion in the military filed separate briefs Monday with the U.S. Supreme Court supportive of same-sex marriage, arguing the discrepancies among state marriage laws are harmful to national security and military recruitment efforts, the New York Times reported. The court is to hear oral arguments next week on gay marriage bans in four states in a landmark case that could legalize same-sex marriage throughout the country.
The retired officers pointed out that unlike private sector workers, military members can't turn down transfers to other states. For gay military members who are married, this could mean that their union becomes unlawful if they transfer to a state that doesn't recognize their union. Military members also are more likely to be transferred than private employees.
"Those willing to risk their lives for the security of their country should never be forced to risk losing the protections of marriage and the attendant rights of parenthood simply because their service obligations require them to move to states that refuse to recognize their marriages," the officers wrote in a brief filed by the Chicago-based Sidley Austin law firm, according to the Times.
The other brief, filed on behalf of groups that support gays in the military, said differing marriage laws among the states hurt the military's effort to recruit and keep members, United Press International reported. That brief was filed by the New York law firm Chadbourne & Parke, according to the Times.
"No legally married couple would look fondly upon a move from a state where the couple's marriage is recognized to a state where their marriage is annulled for state law purposes," the brief stated.
Four states with gay marriage bans -- Kentucky, Ohio, Michigan and Tennessee -- are arguing that their laws are constitutional. They were all upheld by the Sixth Circuit federal appeals court in Cincinnati, according to Scotusblog.
© Copyright IBTimes 2023. All rights reserved.