Gay Troops File Suit Challenging Defense of Marriage Act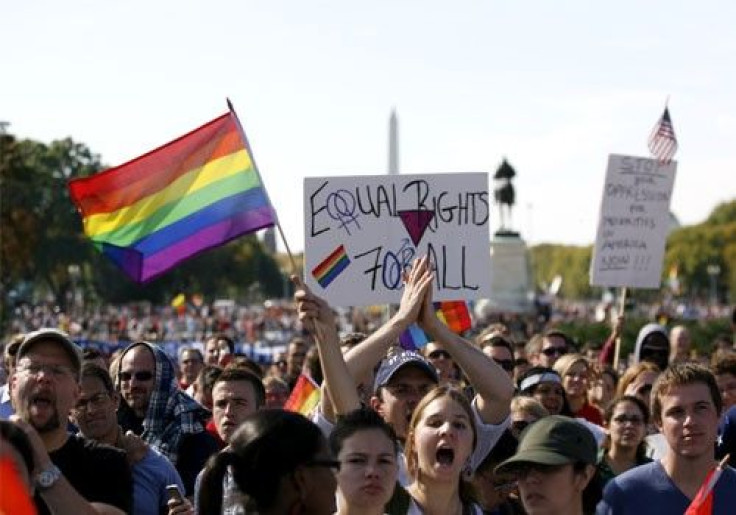 Gay and lesbian service members and veterans have filed a lawsuit Thursday challenging the law that bans federal recognition of same-sex marriages and defines marriage as a union between a man and a woman.
A suit challenging the Defense of Marriage Act will be filed in a federal district court in Boston. Signed into law in 1996, the act prohibits any federal recognition of same-sex marriages now legal in six states plus Washington, D.C.
The lawsuit was filed more than a month after the end of Don't Ask Don't Tell, the policy that banned gays and lesbians from serving openly.
Servicemembers Legal Defense Network filed the suit on behalf of eight current and former service members and their spouses who argue that DOMA is unconstitutional because it impedes states' rights to define marriage and blocks access to spousal benefits.
Seeks Federal-Level Recognition
These couples are in long term, committed, and legally recognized marriages and the military should not be forced to turn its back on them because the federal government refuses to recognize their families, SLDN Executive Director Aubrey Sarvis said in a statement.
The suit names the U.S., Attorney General Eric Holder, Secretary of Defense Leon Panetta and Secretary of Veterans Affairs Eric Shinseki.
The military is prohibited from providing gay and lesbian armed service members and their spouses benefits and family support that heterosexual members receive. These benefits include housing, health care, military identification cards and surviving spouse aid.
Major Shannon L. McLaughlin, one of the plaintiffs, was unable to get benefits to her wife, a former high school teacher and stay-at-home mother of twins.
Health insurance has been too expensive for Lieutenant Gary C. Ross of Arizona and his husband, plaintiff Dan Swezy, who travels to Mexico for medical care, according to the complaint.
With the end of Don't Ask, Don't Tell and the increasing number of states allowing same-sex marriage, the service members say that the military's benefits program under DOMA fail to address the modern military.
Pentagon in Review of Possible Benefit Eligibility Modifications
Married gay and lesbian military members do receive some benefits allowed under DOMA, such as emergency leave to care for an ill spouse, but they are limited while the Department of Defense studies other benefits that could be offered under the law.
The Defense Department is engaged in a careful and deliberate review of the possibility of extending eligibility for benefits, when legally permitted, to other individuals including same-sex partners, said Eileen M. Lainez, a Defense Department spokeswoman.
Service members may also designate their spouse as beneficiaries for some benefits, regardless of sexual orientation, Lainez said.
A Veterans Affairs Department spokesperson did not immediately return request for comment.
As states began to legalize same-sex marriage, DOMA became a target for repeal. The effort got a major boost when President Barack Obama decided in February that the U.S. Department of Justice will no longer defend the law's constitutionality in court cases.
Republicans in control of the U.S. House of Representatives, meanwhile, hired former U.S. Solicitor General Paul Clement, who served in the Bush administration, to defend the law.
The constitutionality of DOMA has been challenged in several cases working their way through the appeals process, potentially reaching the U.S. Supreme Court.
There is also a legislative effort from U.S. Senate Democrats to repeal DOMA. Sen. Patrick Leahy, a Vermont Democrat who chairs the Judiciary Committee, indicated Tuesday that a DOMA-repeal bill will soon be voted out of the committee. All 10 committee Democrats support the bill, which will be debated in the Judiciary Committee Nov. 3.
Even if the full Senate approves the legislation, the bill faces certain defeat in the GOP-controlled House.
© Copyright IBTimes 2023. All rights reserved.