Geert Wilders Execution Video? Rapper Hozny Takes Cheap Shot, But Anti-Islam Dutch Politician Calls It A Real Threat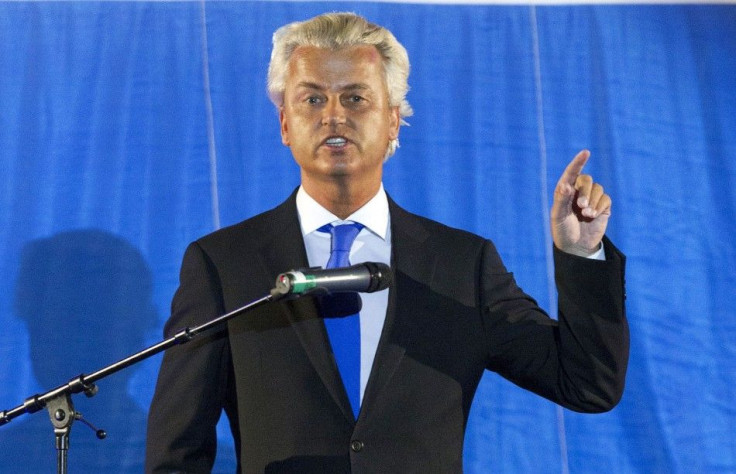 Geert Wilders, the divisive Dutch politician who campaigns against the "Islamization" of the Netherlands, is threatening to sue a Dutch-Lebanese rapper over a video he believes depicts a fictionalized version of his execution.
In the video by Hozny, which is interspersed with clips of Wilders and photos of Hitler, a politician in a cheap blond wig is kidnapped by men in black ski masks. The video ends with the politician tied up and on his knees as the men point guns at his head. The clip has been viewed more than 61,000 times since it was posted less than a day ago.
Wilders, known for his longish blond hair, has called the video a direct threat and plans to pursue legal action, the English-language DutchNews.nl reported. "If this is no threat, then what is?" Wilders reportedly said.
According to the Dutch-language website Crime Nieuws, Hozny has already defended the work on free-speech grounds. He also points out that no one is actually shown being killed and that viewers shouldn't jump to conclusions about what happens after the story concludes. "It can also be that I shoot myself," he said. According to his Facebook profile, Hozny was born in Beirut and lives in the town of Sneek, in the northern Netherlands. A number of fellow Facebook users posted messages on his profile Tuesday congratulating him for the video and joining Hozny in criticizing Wilders.
"F--k de haters!!!" one person posted.
Wilders is the founder of the Netherlands' Party for Freedom and a rampant xenophobe, according to his detractors. Just this week, Fouad Sidali, a senior member of the Dutch Labor Party and candidate for the Hague City Council, compared Wilders to Hitler on Twitter. The candidate later deleted the tweet and acknowledged that it was "inappropriate," JTA reported.
No word yet on what type of legal action Wilders would pursue against Hozny, but if it involves getting Google Inc. (NASDAQ:GOOG) to remove the video from YouTube, he shouldn't hold his breath. It took the company 17 months and a federal court order before it finally removed the controversial anti-Muslim video "Innocence of Muslims."
Hozny's video, "Geertje," has attracted more than 1,900 comments, many criticizing it for fighting hate with more hate. Is it a mortal threat or a political statement? Watch the full clip below and decide for yourself.
© Copyright IBTimes 2023. All rights reserved.