Geithner Praises India's Moves To Further Open Markets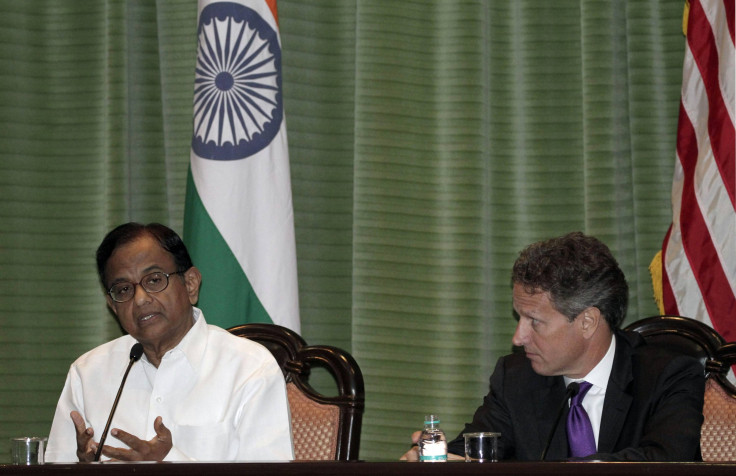 U.S. Treasury Secretary Timothy Geithner praised Tuesday recent controversial reforms by India aimed at luring more foreign direct investment (FDI).
He's on a visit to New Delhi with Federal Reserve Chairman Ben Bernanke to meet Indian officials.
"I feel very encouraged by the initiatives taken by the Indian government," Geithner told a meeting of the U.S.-India Business Council. "It's good for us that we are here this time when there is so much change in air."
The American's praise could be viewed by opponents of the government of Prime Minister Manmohan Singh as confirmation that it's selling out to corporate interests.
Geithner, who spent part of his youth in India, said he wasn't there to give advice to the country but that the reforms would be "welcomed around the world."
India said recently it will permit foreign retailers to set up shop in cities with populations greater than a million in states that allow them in. It also raised the cap of foreign investment in the insurance sector from 26 percent to 49 percent and lifted a ban on foreign participation in pension administration.
Other recent reforms are aimed at boosting investor confidence in India, which is fighting a mounting deficit, climbing inflation and one of the world's largest impoverished workforces.
Geithner made his comments Tuesday as the International Monetary Fund downgraded India's projected 2012 GDP growth by 1.3 percentage points to 4.9 percent, a significant drop from last year's 6.8 percent. That news came out ahead of the 2013 IMF and World Bank annual meeting that begins in Tokyo on Wednesday and runs through Oct. 16.
Specifically, India is facing one of the world's highest fiscal deficits at 9.5 percent of the country's gross domestic product and consumer price inflation approaching 10 percent. While it's among the top 10 economies, India needs a growth rate closer to China's than to Italy, especiially because it has a young, fast-growing population.
"Faster economic growth is essential if the distance with the economic superpowers is to be reduced rapidly, as well as creating a robust economy that offers ample opportunities to 1.2 billion Indians," wrote Niranjan, a columnist for the Indian paper Mint.
"The way to ensure this is not temporary is monetary and fiscal stimulus; it is through more structural changes such as an investment revival, a new wave of reforms, higher investment in human capital and better infrastructure," the Indian journalist continued.
For his part, Geithner dismissed the IMF growth downgrade, calling the report simply a reminder to policymakers of what's at stake.
Federal Reserve chairman Bernanke accompanied Geithner to India to boost economic ties. India and the U.S. had $57.6 billion worth of bilateral trade last year.
© Copyright IBTimes 2023. All rights reserved.