German Finance Minister Hails S&P Downgrade Threat as 'Best Possible Incentive'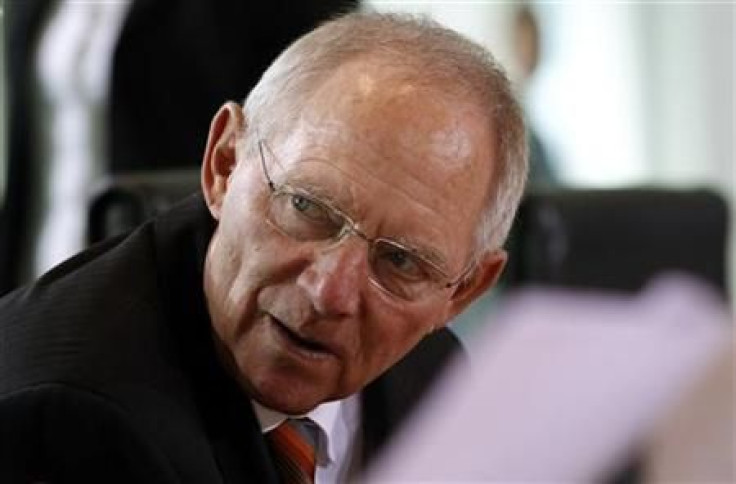 The threat by Standard & Poor's to downgrade the ratings of fifteen euro nations has been hailed by a most unlikely source – German finance minister Wolfgang Schaeuble.
According to BBC, Schaeuble said the warning from S&P offers the "best possible incentive" ahead of the Eurozone emergency summit this Friday in Brussels.
On Monday, S&P placed the euro zone nations on "Credit watch," which means a 50 percent likelihood of a downgrade over the next ninety days. Six of those countries -- including Germany – currently enjoy the top AAA rating.
Ironically, S&P's threat came right after German Chancellor Angela Merkel and French President Nicolas Sarkozy vowed to toughen the European Union (EU) treaty rules by demanding greater accountability from member countries with respect to their debt management and budget programs.
On Tuesday, the New York-based rating agency also warned that the AAA rating of the European Financial Stability Facility (EFSF) – the rescue fund for the euro zone – will also be placed under review.
Depending on the outcome of our review of the ratings on EFSF member governments, we could lower the long-term rating on the EFSF by one or two notches, if any, S&P said in a statement.
From Schaeuble's perspective the threat of a downgrade will provide the urgency needed for European nations to finally resolve the debt crisis once and for all.
The solution to the crisis must be... verifiable, credible and confidence-building, he told media in Vienna.
The truth is markets worldwide don't trust the euro zone at all right now.
He added that S&P's actions will force European officials "to do what we've promised, namely to take the necessary decisions step-by-step and to win back the confidence of global investors."
However, others are criticizing S&P for issuing the downgrade threat.
Schaeuble's colleague, German economy minister Philipp Roesler told a conference in Munich: Germany will not let itself be influenced by... the short-lived verdict of one rating agency. We think nothing of such threats. We have no difficulties on the financial markets. We are and remain the anchor of stability in Europe.
S&P faced similar criticism after it downgraded the AAA rating of the United States government in August.
Robert Peston, BBC's business editor, wrote: "S&P's analysis is backward-looking, identifying the structural weaknesses in the currency union that have been conspicuous to investors for months and which the euro zone's leaders are trying to solve.
It is the timing that is so controversial of announcements that the six financially strongest euro zone governments, including Germany and France, could lose their AAA ratings, and 10 others could see their ratings reduced by relatively more. It comes just as France and Germany reach an agreement intended to subject all euro zone countries to stricter disciplines on what they borrow - and only days before a European Union summit that's intended to come up with a proper solution to the euro zone's crisis."
Peston added: "S&P says it wants euro zone leaders to understand how much is at stake if this week's summit is another damp squib. But if its actions were to set off a panic that were, for example, to tip a bank over the edge, it could be accused of destabilizing attempts to reform the euro zone in an orderly way."
Similarly, Luxembourg Prime Minister Jean-Claude Juncker, the head of euro-area finance ministers, also questioned the timing of S&P's threat.
He told German radio network Deutschlandfunk: "I have to wonder that this news reaches us out of the clear blue sky at the time of the European summit -- this can't be a coincidence.
© Copyright IBTimes 2023. All rights reserved.