Germanwings Plane Crash Anniversary: What We Know About Flight 9525 And Its Co-Pilot One Year Later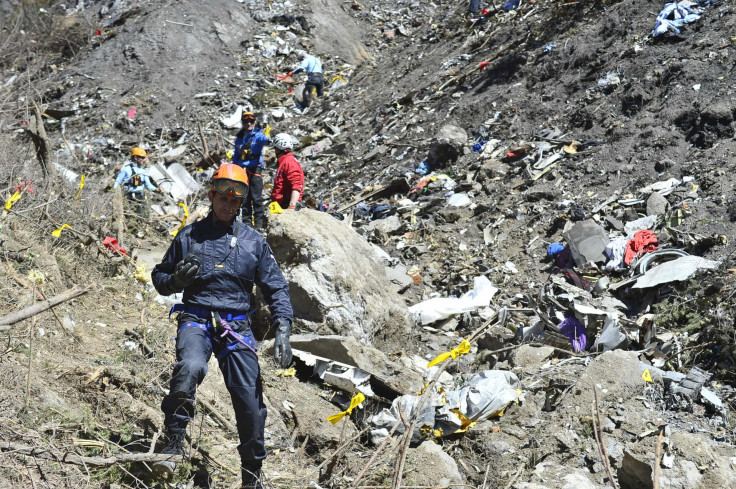 On March 24, 2015, Germanwings Flight 9525 was traveling from Barcelona, Spain, to Düsseldorf, Germany, when it crashed in the French Alps, killing all 150 people on board. Rumors started to spread almost immediately — could this be another mystery plane accident, like the disappearance of Malaysia Airlines Flight 370 the year before, or a terrorist hijacking, like with United Airlines Flight 175 on Sept. 11, 2001?
One year later, we now know it was neither: The flight's co-pilot, Andreas Lubitz, is thought to have steered the plane into the mountains on purpose. On the anniversary of the Germanwings crash, here's a review of the facts.
Where it was from and where it was going: Flight 9525 was an Airbus A320 that took off as normal from the Barcelona–El Prat Airport at 09:01 UTC. It was set to touch down at Düsseldorf Airport about an hour and a half later. The plane disappeared from radars at about 09:30 UTC.
Who was on board: There were 144 passengers and six crew members on the plane. The Associated Press reported they included 71 people from Germany, 48 from Spain, three from Argentina, three from the U.S., two from Australia, two from the U.K., two from Colombia, two from Iran and one person each from Belgium, Denmark, Holland, Japan, Mexico, Morocco and Venezuela. The victims included a number of schoolchildren, a mother and son returning from vacation and an opera duo, according to BBC News.
Who the pilots were: The captain was Patrick Sondenheimer, a 34-year-old father of two with more than 6,000 hours of flying time, CNN reported. Sondenheimer left the cockpit to use the restroom, and when he returned he found himself locked out. According to German media outlet Bild, which reviewed an audio recording of the crash, Sondenheimer tried to force his way in, shouting, "For God's sake, open the door."
The man left inside the cockpit was the co-pilot, Lubitz, a 27-year-old who a prosecutor would later allege had "a deliberate desire to destroy this plane." He kept Sondenheimer out while he dropped the plane's altitude rapidly.
Why it crashed: Investigators concluded Lubitz crashed the plane on purpose, perhaps due to his history of depression. The co-pilot also had vision issues he thought could lead to him losing his job and had been prescribed antidepressants, according to the New York Daily News.
Lubitz had researched methods of killing himself and reportedly practiced dropping altitude.
What was recovered: As of last April, about 80 percent of the debris from the plane, totaling more than 35 tons, had been found in the mountains. The wreckage included everything from the engines to cockpit equipment, NBC News reported. Unidentified remains from the crash were buried earlier this month near the site of the accident.
How the families reacted: Lufthansa, the parent company of Germanwings, initially paid victims' relatives about 50,000 euros, or about $56,000, and offered German families about 45,000 more, CNN reported. Additional compensation varied by the passengers' home countries.
At least one group of families has said they're not satisfied with the payout or the treatment they've received from Lufthansa. "We, and especially our children, are deeply insulted that you measure the life of each of our children and our pain that we suffered with €45,000," they wrote in an open letter last year. "This is the amount that you personally get paid every work week by Lufthansa as a salary. Every week."
Another set of relatives recently announced plans to sue the airline because they're "more desperate than ever," attorney Elmar Giemulla told Agence France-Presse. Reuters reported this week that the company would host an anniversary ceremony Thursday.
What has changed: Since the crash, Lufthansa has switched its policies so at least two crew members are always on the flight deck, according to BBC News.
Investigators who released a Germanwings Flight 9525 report earlier this month also recommended loosening the privacy rules restricting doctors from reporting potentially dangerous pilots to the police or the airline in question. The agency requested a set of "clear rules to require health care providers to inform the authorities when a specific patient's health is very likely to impact public safety," NPR reported.
FOR FREE to continue reading
✔️ Unlock the full content of International Business Times UK for free
offer available for a limited time only
✔️ Easily manage your Newsletters subscriptions and save your favourite articles
✔️ No payment method required
Already have an account?
Log in
© Copyright IBTimes 2023. All rights reserved.