Germanwings Crash: Final Investigation Report Recommends Change In Patient Confidentiality Laws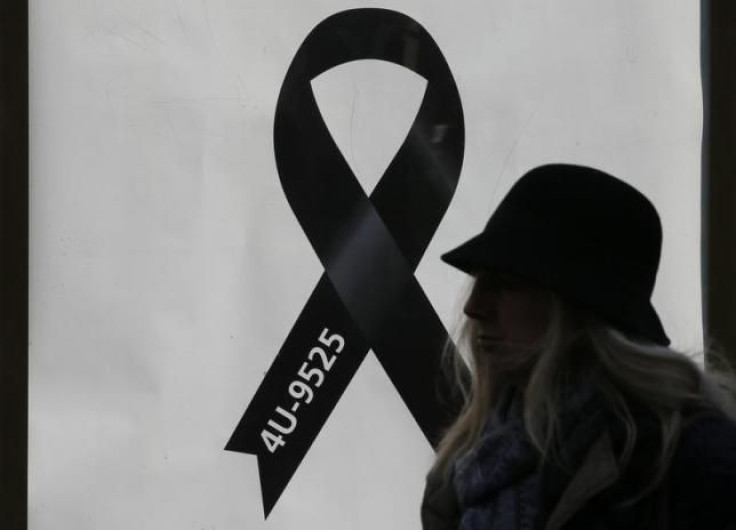 French investigators published their final report Sunday on the Germanwings plane that crashed nearly one year ago. The Airbus A320 plane was deliberately flown into the French Alps by its co-pilot, raising global concerns over regular medical checks to assess the mental health of pilots.
On March 24, 2015, co-pilot Andreas Lubitz locked the pilot out of the cockpit. Ten minutes later, Germanwings Flight 9525 ploughed into a mountain hillside, killing all 144 passengers and six crew members. The ensuing investigation revealed that Lubitz had been suffering from depression and had seen dozens of doctors in the years preceding the crash. However, due to strict patient-confidentiality clauses under the German law none was able to alert his employers about his state of mind and he was allowed to continue flying.
In the final report, France's Bureau d'Enquêtes et d'Analyses (BEA) civil aviation investigators recommended annual medical checks to prevent mentally ill pilots from taking charge of a plane, citing similar practices from transport bodies such as the French rail and nuclear industry.
BEA chief Remi Jouty said at a press conference Sunday that Lubitz was taking anti-depressants at the time of the tragedy. Lubitz renewed his aptitude certificate for the last time in November 2014 after which he was signed off on sick leave for a short period. However, the 27-year-old did not retake his aptitude tests after the leave, as stipulated in regulations.
The French investigation also sought to identify the "systematic failures which led to this accident," adding that the investigators were also weighing the risks to flight safety due to medical secrecy. A physician who asked Lubitz to seek urgent treatment for depression was not allowed to warn authorities because of Germany's strict privacy laws.
"It is important to strike a balance between patient confidentiality and public safety," Jouty said in the report, adding that "healthcare providers should be protected to avoid being taken to court when such information is passed on."
Sunday's report also revealed that plane captain Patrick Sondenheimer used a crowbar and an oxygen tank to attempt to break back into the cockpit. Sondenheimer also made repeated unanswered calls to the cockpit using the staff intercom system. Lubitz was able to crash the aircraft after locking himself in the cockpit when the captain went to toilet.
Following the crash, European aviation authorities recommended that it was compulsory to have two people in the cockpit at any time during flights.
Germanwings' parent company Lufthansa has paid 50,000 euros ($56,000) per victim as an initial compensation and offered an additional 25,000 euros ($27,891) to each of the families of victims.
© Copyright IBTimes 2023. All rights reserved.