Germany-Brazil-7-1 Rout Gets Its Own Moniker: Mineiraço, Brazil's Worst Shame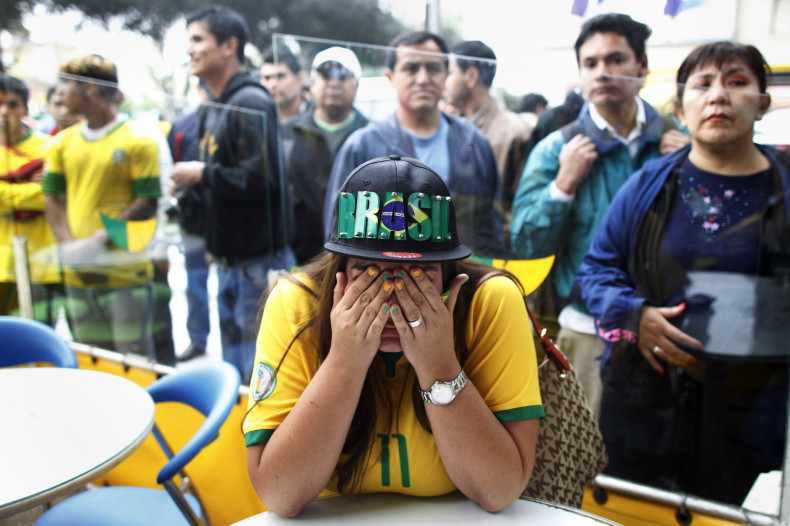 The worst moment in Brazilian sports history has always been the 1950 defeat at the hands of Uruguay in the final of the World Cup the Brazilians were playing at home. The unexpected 2-1 victory by the neighboring rival nation is remembered as the Maracanazo, something like "the bad thing at Maracanã," from the name of the Rio de Janeiro stadium where the game was played. Every Brazilian knows it as the lowest point in the century-old history of the nation's game.
But that changed on Tuesday, when the incredible 7-1 rout by Germany in the first semifinal of the 2014 World Cup became the worst defeat ever for Brazil in the history of the tournament.
The extent of the national shame created by the defeat on Tuesday in Belo Horizonte cannot be overestimated. Brazil is the world's seventh-biggest economy and a global giant in the making, and one thing it prides itself on doing better than any other nation on Earth is soccer. It was supposed to win this World Cup, played at home for the first time since that fateful 1950 game. After all, it has five World Cup victories, more than any other nation. It has the best talent, the best moves, the famous jogo bonito or "beautiful game" that every soccer player in the world knows and aspires to. And its 200 million people treat o futebol like a national religion.
No wonder then that team captain David Luiz, in tears at the end of the game, asked his fellow Brazilians for forgiveness and said he had just wanted "to see the people smile," newspaper O Globo reported.
Folha de São Paulo, the biggest newspaper in Brazil's biggest city, even evoked the ghost of the Maracanazo by coining a moniker for the defeat: Mineiraço, from the name of the stadium where the rout happened, the Mineirão. It translates to pretty much the same meaning: "The bad thing from Mineirão."
And a bad thing it is indeed. It certainly was for President Dilma Rousseff, who probably did not imagine that the national team would be down by a whopping 0-5 after only 30 minutes and that fans would start chanting obscenities at her that cannot be repeated here. She faces a tough re-election fight in October, and being associated with the Mineiraço will not help.
But nobody could have predicted a "massacre," as Brazilian media called it. The words and the stories tended to be similar across all websites: It's incredible. It was humiliating. Supporters booed and cried. Pictures showed people burning the national flag in São Paulo.
It's "the biggest nightmare," the website of magazine Veja said. "It's a calvary. The worst 90 minutes in the history of Brazilian soccer."
Goalkeeper Julio César, who just days ago was hailed as a hero after saving two penalties in the shootout against Chile, was in tears too. In an interview with Rede Globo television, he struggled to make sense of the numbers -- seven to one -- that Brazilians are used to seeing when their team wins, not when it loses. And it hadn't lost at home in 39 years. That was all too much for Julio César. "Explaining the inexplicable," he said, "is complicated."
(A previous version of this story stated that Brazilian president Dilma Rousseff was in attendance at the Belo Horizonte stadium, where she was booed. She was not physically present there; the story has been amended to reflect that.)