Germany 7-1 Brazil VIDEO: All The Goals, Highlights From Surreal, Humiliating World Cup 2014 Semifinal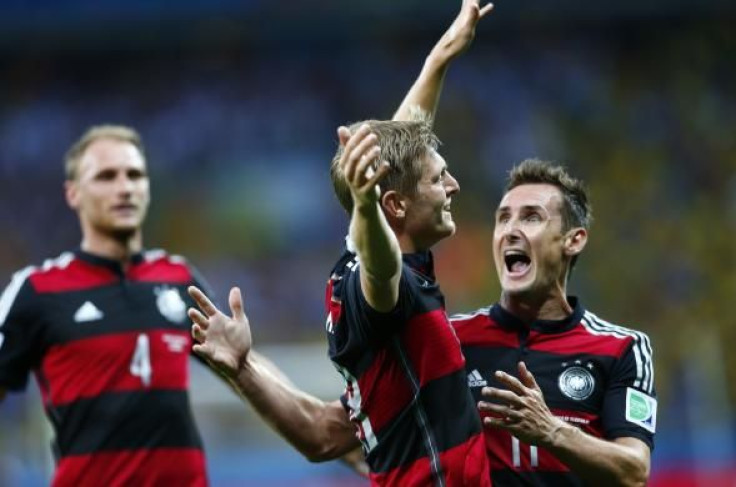 Germany produced surely the most stunning result in World Cup history by trouncing host Brazil 7-1 in their semifinal in Belo Horizonte.
The margin of victory is a record in World Cup semifinals, and five of the goals came inside 25 minutes, the fastest a team has reached that figure in any World Cup game. Thomas Müller's opener in the 11th minute left Brazil shell-shocked and in complete disarray. Midway through the period, Germany blasted four in just six minutes to leave Brazilian fans in tears and Brazilian players in a motionless daze. To complete an incredible rout, Andre Schürrle came off the bench and added two more to make it a magnificent seven for a team that will, unless something extraordinary happens in the other semifinal between Argentina and the Netherlands, enter the final as favorites to lift its first World Cup since 1990. Oscar's goal late on was the most insignificant of consolations for a team left disconsolate at the final whistle.
It was a match that lay bare in the crudest of fashions all the faults Brazil has shown throughout a wholly unconvincing World Cup campaign. It may have been a trophy that Brazil's public demanded the team win on home soil, but not once did Brazil show the quality required. Although it may have been able to psychologically and physically bully its South American rivals in the first two knockout rounds, it found Germany a whole different proposition. And without captain Thiago Silva and talisman Neymar, Brazil simply crumbled.
Germany was given a massive helping hand, but, building on the assurance of its best performance to date at this World Cup in its quarterfinal with France, Germany was brilliant. Joachim Low's side played with real technical quality and the ruthless efficiency of the best German teams of the past. Toni Kroos got two goals and ran the show in a midfield zone where Brazil was embarrassingly lightweight. Müller, meanwhile, took his goal tally in this tournament to five and in just two World Cups to 10. At the age of just 24, he is already approaching the record. That is a mark now held by his teammate, Miroslav Klose, who struck the game's second goal to take his all-time figure to 16. That the man he bettered to claim the record was Brazilian legend Ronaldo only rubs salt into the wounds on a day that surely eclipses the misery of defeat by Uruguay the last time the World Cup was played on Brazilian soil in 1950.
Throughout this World Cup, Brazil has played with raw passion and emotion, almost as a way to compensate for the obvious deficiencies in a squad that pales in comparison to the glory teams of 1958 to 1970 and the glorious failure of a team in 1982. But the way Brazilian players wore their hearts on their sleeves arguably also proved Brazil's undoing. In all the matches, Scolari's side played with more passion than control.
After the loss of the one member of the team playing with true flair, Brazil's emotions appeared even more heightened. David Luiz, captain in place of another major loss Thiago Silva, held Neymar's shirt during a raucous rendition of the national anthem. Perhaps both he and his teammates should have been thinking more about the particulars of the game at hand.
As against Colombia in their quarterfinal, Brazil came out at a ferocious tempo. But Germany was unfazed, either by the pace of the game or any attempt by its opponents to make it a physical battle. Scolari's decision to replace Neymar with the fleet-footed but lightweight Bernard proved as erroneous as it was surprising.
Brazil was a mess. Germany simply bided its time to pick its way through a midfield that has been incredibly open in every match. The scoring began when Luiz was caught out from a corner and Müller had all the time in the world to volley into the net from six yards out. Going behind prompted no re-examination of Brazil's approach, but simply more mindless attacking.
Fernandinho missed an interception to allow Kroos to feed Müller in the box, whose touch set up Klose. At the second time of asking the 36-year-old had goal No. 16. Within three minutes, Kroos had added two more. The first was a spanking first-time finish from the edge of the box, the second came after a fine reverse ball back into his path from Sami Khedira. There was only the briefest of respites before it was 5-0, with a goal remarkably similar to the fourth, this time finished by Khedira.
In truth each of the goals were eerily similar. They involved Brazil allowing its opponents a startling amount of space to operate and Germany taking full advantage. Scolari made two changes at half time, bringing on Ramires and Paulinho for the woeful Fernandinho and Hulk in a partial admission of his mistakes made with the starting lineup.
Brazil could even have made the second-half a contest but for superb saves from Manuel Neuer to deny Paulinho and Oscar. But after that initial salvo, the pattern of the first half resumed. Brazil offered nothing as Germany resumed its punishment. Schürrle rolled in a sixth then smashed in a brilliant seventh.
Oscar's goal meant it was only the biggest lost in Brazil's history. It should never have reached that point, but it was a defeat that should become the nadir for a national team once cherished the world over but which has moved from o jogo bonito to plain ugly. Those with the power to shift the preference in players from athletic and physical to skill and technique only have to look at Germany for the benefits of going back to the drawing board. Having torn up their footballing culture less than 15 years ago, Germany now stands on the verge of reaping the ultimate reward.
© Copyright IBTimes 2023. All rights reserved.