Germany Bus Crash Injures At Least 30 People: What We Know So Far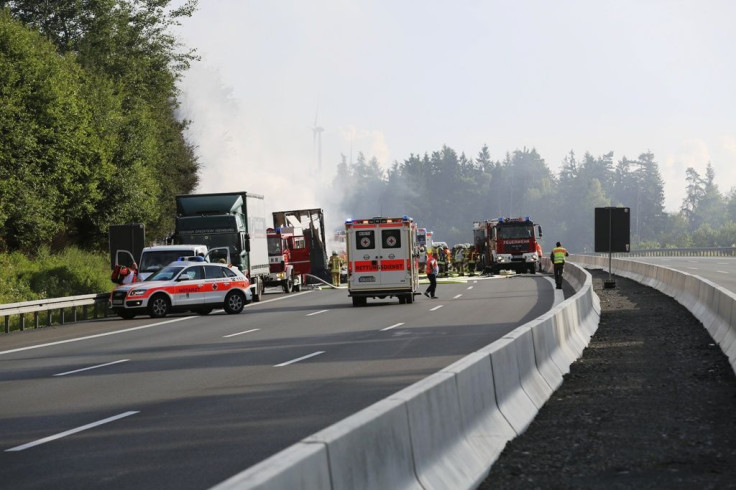 At least 30 people were injured and 17 other remained unaccounted for after a bus rammed a truck in southern Germany on Monday morning, according to local law enforcement officials. The accident happened near Muenchberg in Bavaria.
46 people and two drivers were on the bus when the accident took place, police spokeswoman Irene Brandenstein reportedly said. The bus was traveling from Lausitz in the East Germany to Nuremberg in northern Bavaria, according to local reports.
Read: Video Shows Police Kicking And Dragging Victim Of Fiery Car Crash
"We are realistic and will have several dead to report at the end of the day," another police spokesman Jürgen Stadter told reporters. He added there was "only a glimmer of hope" that the missing people would be found alive. "Perhaps somebody ran away in a state of shock," he said, according to Deutsche Welle.
Brandenstein reportedly said the bus crashed into a truck at the end of a traffic jam. However, there was limited information available on the drivers' fate. Furthermore, the officials are working to find out the remaining 17 people on the bus who are unaccounted for.
Television footage and photos of the crash showed the bus being completely burned down, with only steel frame left behind. Medical emergency personnel was dispatched to the scene. Helicopters and ambulances, too, were on the crash site to treat those wounded.
Following the crash, the A9 highway was closed in both the directions. The highway is reported to be one of the busiest in the country. It joins several areas such as the Potsdam region in Berlin, Leipzig, Bayreuth, Nuremberg, and Munich.
"It is completely possible that some people did not make it out of the bus, it's unclear where the 17 of them are," police spokeswoman Anne Hoefer said, according to the Telegraph. The passengers of the bus were mainly pensioners from former East Germany, reports said.
Read: I-10 Accident Caused By Dust Storm Kills Several In Arizona
Germany has witnessed a number of accidents in the recent years. In 2012, three vehicles rammed into each other on the A4 highway outside the eastern city of Dresden, leaving nine people dead. Following the investigation, police said a Polish bus ran into a Ukrainian bus, making it skid across and hit another Polish minibus traveling in the opposite direction, Deutsche Welle reported.
One of the deadliest accidents Germany has witnessed took place in June 2007. Thirteen people were killed after their tour bus drove off the road and fell down a slope in eastern Germany's Saxony-Anhalt state. In September 1992, 21 people were killed when a bus skid and hit a truck before ramming into the road divider in the southern Black Forest region, a popular tourist destination.
© Copyright IBTimes 2023. All rights reserved.