Atlanta Church Bus Crash: 1 Dead, Several Hurt In Fulton County Accident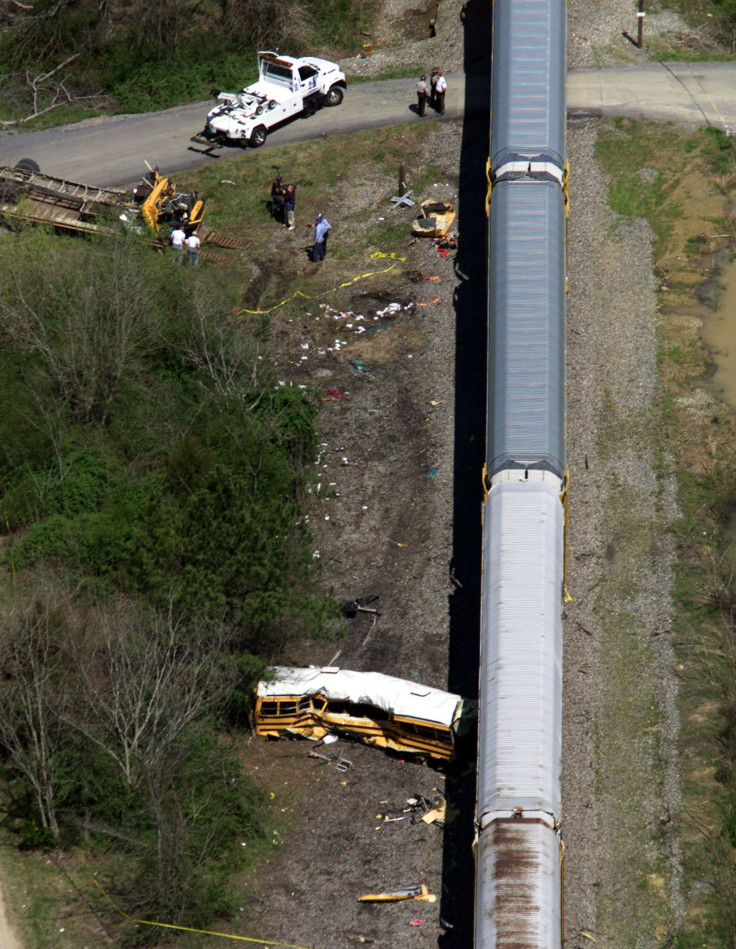 A teenage girl was killed and several others injured Thursday after a Huntsville, Alabama, church bus carrying nearly 40 people crashed and overturned in Fulton County in Atlanta, Georgia.
The Mount Zion Baptist Church bus from Huntsville was heading to Atlanta Hartsfield-Jackson International Airport for a flight to South Africa, officials confirmed. It was carrying students to the airport for a ministry mission trip to Africa when it crashed.
According to Fulton County Police, the crash took place on Camp Creek Parkway at Merk Road near the Hartsfield-Jackson International Airport around 3:30 p.m. EDT.
SkyTracker 11 showed videos and photos of the bus getting overturned on the road. It also seemed that another vehicle also suffered heavy damage.
Mount Zion Baptist Church in Huntsville, Alabama, posted on its Facebook page that one of its buses carrying students for a ministry mission was involved in a crash while traveling to the airport.
Read: Honduras Bus Crash Kills 2 Columbia University Students, 1 US Healthcare Worker
"PRAY! One of the buses with the student ministry mission had an accident on the way to the Atlanta airport. Several serious injuries. Please pray for those injured and parents as they travel to Atlanta," the post read.
Fulton County police said there were 38 people on the bus, of which 24 were taken to nearby hospitals soon after the crash. While most of the patients were reunited with their families after being treated, four or five were said to be in a critical condition. Others were said to be "walking wounded."
WellStar Kennestone Regional Medical Center in Georgia confirmed that they had received 24 patients at three different hospital branches under them. Grady Memorial Hospital officials said it hospitalized nine patients while Atlanta Medical Center and Southern Regional Medical Center also admitted a few patients. Three air ambulances were also brought into service for transporting patients faster.
The church's Minister of Education, Terry Slay, said the victims included adults along with 11th and 12th-grade students.
"We know there was a wreck, some injuries. Some critical," Slay said adding, "That's all we know right now, we're trying to get more information."
Read: Thailand Tourist Bus Crash Kills 13 Passengers, Mostly Malaysians
Officials said the cause of the crash was not immediately known. Camp Creek Parkway seemed to be blocked in both the directions as the rescue teams worked to clear the scene.
One of the victims who lost their life in the accident was identified as Sarah Harmening. The teenage girl was identified and confirmed by her family, after which the Alabama Baptist newspaper shared a post on Facebook saying Harmening "lost her life in today's bus accident but she left us all with a special journal entry from earlier today, reminding us that God going to do incredible things." Before the accident, Harmening had written about the great things she hoped God would do with her youth group at the Mount Zion Baptist Church.
The wife and son of Madison County Commissioner Phil Vandiver were also among the people who were on board the bus.
"I got a hold of my son about two minutes after the accident and he was just rather shaking, couldn't get much information but he and his mama was fine," Vandiver said.
The Huntsville church, via its Facebook page, has requested people to pray for the those involved in the crash.
© Copyright IBTimes 2023. All rights reserved.