I-10 Accident Caused By Dust Storm Kills Several In Arizona; Other Dust-Related Fatal Car Pile-Ups In US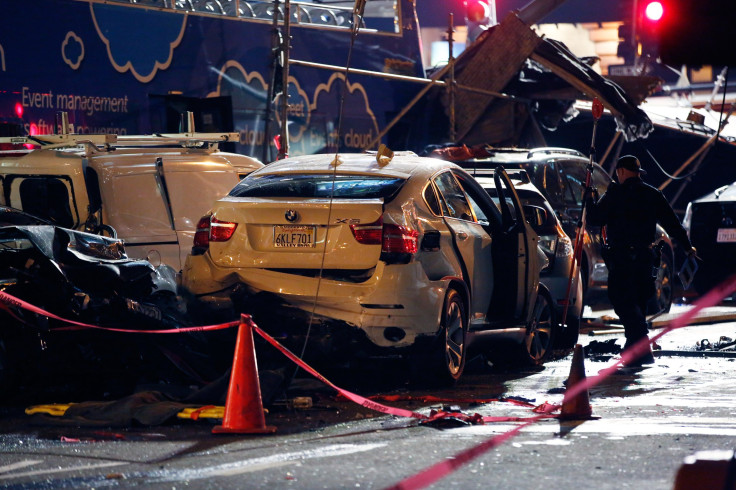 The New Mexico State Police on Monday said several people died after nearly 25 vehicles piled up on each other on the Interstate-10 (I-10), near the Arizona state line. The police said that the chain-reaction crash occurred near milepost 11 and attributed it to high winds and a dust storm.
"Preliminary information from the investigation indicates that 18 commercial motor vehicles and seven passenger cars were involved. Multiple deaths have been reported along with several injuries," according to a statement by the police on Facebook.
The statement also said the police officers are investigating the crash and have also warned motorists taking that route to drive cautiously, watch out for emergency personnel and be prepared for detours around the crash scene. The death toll has not yet been released by the police.
Read: Video Shows Police Kicking And Dragging Victim Of Fiery Car Crash
Arizona DOT, a Twitter page for guiding Arizonians on roads tweeted posting a photograph of the dust storm in New Mexico.
However, this multi-vehicle crash due to dust storms was not the first in the U.S. There have been previous instances where several vehicles got piled up on each other due to dust storms.
In May, one person was killed after a dust storm triggered multiple vehicles to collide with each other on Route 36 between Tuscola and Camargo in Illinois. Multiple other injuries were reported from the pileup and at least one motorist had to be pulled from the wreckage of their car, reports said.
JC Fultz, chief meteorologist of WAND-TV, an NBC-affiliated TV station for the central Illinois region, tweeted a video of the dust storm.
In March 2016, around 28 people were injured in a chain-reaction pile-up on State Route 247 in Lucerne Valley in San Bernardino County which was blamed on poor visibility due to a dust storm, authorities said.
"Crews also reported blowing dust in the area causing zero visibility. While conducting initial patient assessment several more collisions occurred resulting in more injuries," San Bernardino County Fire Department said in a statement on Facebook.
In July 2016, a report published by meteorologists with the National Weather Service (NWS) and a University of Arizona atmospheric sciences researcher, concluded that dust storms are the third-largest cause of weather fatalities in over the last 50 years. The report also said 157 people died and 1,324 were injured in 1,521 "dust incidents" on Arizona highways between 1955 and 2011.
In Oct. 2013, three people were killed and at least 12 were injured after a dust storm led to multiple crashes on I-10 between Phoenix and Tucson, authorities said. Television footage showed that several vehicles and tractor-trailers smashed into each other near Picacho Peak in south-central Arizona. Soon after the pile-ups, the Arizona Department of Transportation issued a warning to all motorists about the do's and don'ts in case a dust storm occurs, Fox News reported.
Read: Wife Of ESPN Broadcaster Chris Berman Killed In Car Crash In Connecticut
In Oct. 2011, dust storms across Arizona resulted to three pile-ups on a major interstate, authorities said. Among those killed was a 70-year-old man while 15 others were injured, Fox News reported citing officials.
"It looked like a war zone," Patrick Calhoun, one of the first rescuers to respond to the scene, told the Associated Press. "This has been one of the worst pileups we've had on the I-10," Calhoun added.
In Dec. 1991, multiple cars and trucks collided with each other on California's main north-south highway due to a blinding storm. Authorities said 17 people were killed and as many as 150 were injured, referring to the tragedy as " one of the worst chain-reaction accidents in the nation's history," according to the New York Times.
© Copyright IBTimes 2023. All rights reserved.
FOLLOW MORE IBT NEWS ON THE BELOW CHANNELS