Germany Enhances Ukraine's Air Defense With Patriot Missile Batteries, Offers Extensive Military Aid Package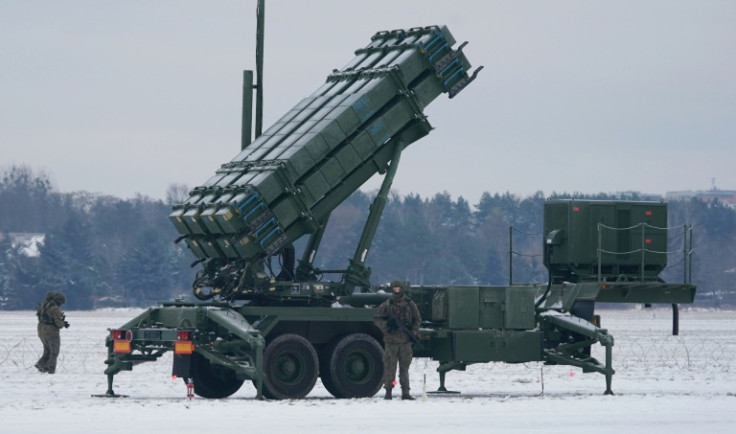 KEY POINTS
Berlin has unveiled an additional military assistance package for Ukraine
This package comprises of 10 BV206 all-terrain vehicles
It also includes more than 6,500 rounds of 155 mm smoke ammunition, four Vector reconnaissance drones
Germany confirmed Wednesday two additional Patriot surface-to-air missile (SAM) batteries were transferred to Ukraine, a month after the move was announced during a NATO summit.
The missiles provide Ukraine with increased air defense capabilities against Russian aircraft, effectively controlling the airspace and compelling Russian fighters to confine their operations to their own territory, thereby preventing total air superiority.
As reported by the Kyiv Independent, confirmation of the deployment of two Patriot missile systems within Ukraine's air defense came from Ukraine's Air Force in late April. These systems, one from Germany and the other from the U.S., contribute to a total of four Patriot missile systems now in Ukraine's possession.
Additionally, Berlin has unveiled a military assistance package for Ukraine, which comprises 10 BV206 all-terrain vehicles, more than 6,500 rounds of 155 mm smoke ammunition, four Vector reconnaissance drones, five vehicles for border protection, six truck tractor trains accompanied by six semi-trailers, and two load-handling trucks.
Berlin has also supplied 100 MG5 machine guns, 40,000 first aid kits, materials for explosive ordnance disposal, binoculars, and safety glasses.
During the NATO summit held in July, both France and Germany declared their commitment to providing Ukraine with various military assets. The assets include the SCALP-EG cruise missile, armored personnel carriers, Leopard tanks, drones, and ammunition. The announcements were made by President Emmanuel Macron and Chancellor Olaf Scholz.
However, Russia has managed to either destroy, capture, or both, all of the aforementioned platforms. Images depicting a downed Storm Shadow missile and damaged Leopard tanks within extensive blazing armored convoys have circulated widely on social media. These visuals suggest the Russian military, well-prepared and equipped technologically, had anticipated and effectively addressed all possible scenarios.
These declarations and weapon transfers signify a pivotal juncture in the conflict, as the war has extended beyond a year and the Ukrainian counteroffensive has yielded limited results on the battleground. The Western coalition, led by the U.S., faces a significant decision--whether to continue indefinitely arming Ukraine or to start indicating a willingness to engage in negotiations with Moscow for a potential compromise.
President Emmanuel Macron stated that the inclusion of the SCALP-EG cruise missile will provide Kyiv's forces with the capability to defend themselves, Reuters reported.
"I have decided to increase deliveries of weapons and equipment to enable the Ukrainians to have the capacity to strike deeply while keeping our doctrine to allow Ukraine to defend its territory," he said on arrival at a NATO summit in Lithuania.
© Copyright IBTimes 2023. All rights reserved.