Germany suspends extension of nuclear program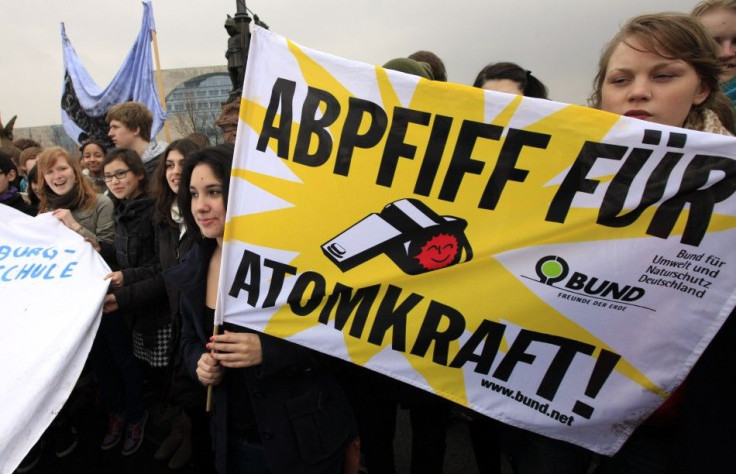 In the wake of the nuclear crisis in Japan, the German government has decided to suspend for three months a proposal to extend the lives of its aging nuclear power stations.
The events in Japan ... teach us that events deemed absolutely unlikely can happen, said Chancellor Angela Merkel in Berlin. We have a new situation and this has to be analyzed very thoroughly.
Last year, Merkel's coalition government said it would close the nation's seventeen power stations about 12 years later than originally envisioned. However, much of the public have long called for the extensions to be done away with.
The decision follows protests over the weekend by thousands of people who demanded the end to Germany's nuclear program.
Protesters formed a 27-mile human chain in the state of Baden-Wuerttemberg from Stuttgart to Neckarwestheim, one of the power plants that would have seen its life extended. (The protests were planned prior to the Japanese crisis).
Demonstrators waving yellow flags with the slogan Nuclear power -- no thanks.
We know how safe our plants are and that we do not face a threat from such a serious earthquake or violent tidal wave, Merkel told reporters.
But we will learn what we can from the events in Japan, and in the coming days and weeks will follow closely what the analysis yields.
Merkel indicated that all German reactors will be checked for safety issues and her government will later decide on their future. She suggested that older reactors would be shut down earlier than planned.
There will be no taboos, she said. Safety stands above everything.
However, Merkel said Germany will not shut down all nuclear reactors. Instead, Berlin will seek to establish an energy mix dominated by renewable energy sources such as wind, solar and biomass.
The government of Switzerland also said it is suspending the expansion of its nuclear power projects in the interests of public safety. The Swiss at present have four nuclear plants with five functioning reactors – however, the country's energy regulatory authorities have frozen the regulatory process for an additional three sites.
Meanwhile, the European Union (EU) has called an emergency meeting on Tuesday to discuss safety measures at nuclear reactors.
The EU said it seeks to assess the situation in as well as the EU's preparedness in case of similar incidents. It said the purpose of the parley is to get first-hand information on contingency plans and safety measures in place.
The European Commission estimates that about one-third of the EU 's energy needs are supplied by nuclear power plants.
In a prominent note of dissent, France said it remains committed to its nuclear program.
We can't switch to renewables overnight, said French Environment Minister Nathalie Kosciusko-Morizet on radio.
France gets nearly 80 percent of its power from 58 nuclear reactors.
Also, the Prime Minister of Poland Donald Tusk said his nation will still build two new nuclear power plants, citing that Poland did not have earthquakes risks as Japan.
© Copyright IBTimes 2023. All rights reserved.
FOLLOW MORE IBT NEWS ON THE BELOW CHANNELS