Giancarlo Stanton Trade Rumors: Dodgers, Red Sox, Cardinals, Giants In Latest Speculation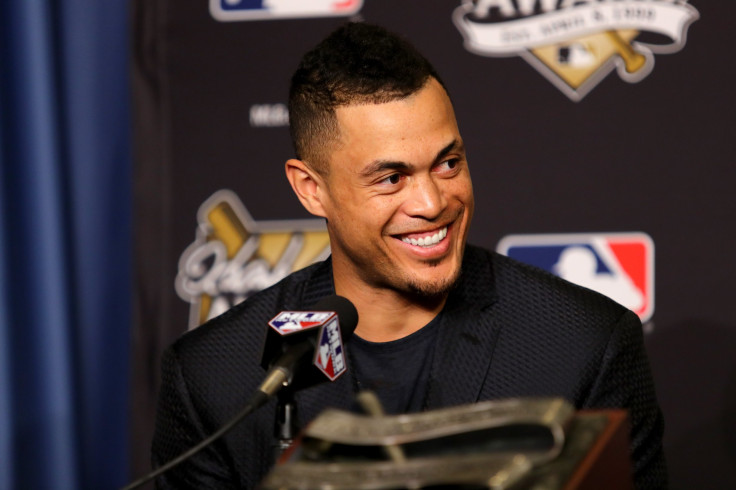 All eyes are focused on one player at the start of the 2017 MLB offseason. Giancarlo Stanton is reportedly on the trade block, and plenty of teams are interested in acquiring the MVP candidate.
In just the last few days, there have been several different rumors regarding the player that owns the largest contract in American sports history. What uniform will Stanton be wearing at the start of the 2018 season?
A quarter of the teams in baseball have reportedly inquired about trading for Stanton. The San Francisco Giants and St. Louis Cardinals are considered to be the frontrunners, while the Los Angeles Dodgers might be Stanton's preferred destination. According to Chad Jennings of the Boston Herald, Stanton would block a trade to either the Cardinals or Boston Red Sox.
Stanton has a full no-trade clause, which means he doesn't have to play for any team that he doesn't want to join. The level of interest on the side of Boston or Stanton for a deal to get done isn't exactly clear, and it's still theoretically possible that the outfielder starts next season as a member of the Marlins.
Dodgers are one of 8 teams said to be in the mix for giancarlo stanton. He's from LA and most wants to win, so you know he'd approve.

— Jon Heyman (@JonHeyman) November 15, 2017


"There are some financial things we have to get in order,"' Derek Jeter, who is part of the ownership group that recently purchased the Marlins, told reporters Wednesday at MLB's General Manager Meetings. "That's the bottom line. It's an organization that's been losing money for quite some time, so we have to turn that around. How we do that is not clear. It's easy to point the finger at [Stanton] because he makes the most money, but that doesn't necessarily mean that's the move that's going to be made.
"I understand the assumptions. I do. But we have not come out publicly and said we are trading any particular player. I've been a player. You don't like to see your name constantly in the rumors that are going back and forth with every organization. You can drive yourself crazy. So we have not come out and pointed the finger specifically at any one player."
Even if the Marlins actively try to trade Stanton, they'll have to find someone that's willing to give them what they want in return. That could be difficult, considering ESPN's Buster Olney recently called Miami's asking price "shockingly high."
Stanton is guaranteed to make $285 million over the next 10 years. He led all of baseball with 59 home runs and 132 RBI in the 2017 season.
© Copyright IBTimes 2023. All rights reserved.