Giannis Antetokounmpo Wants To 'Build Culture' In Milwaukee Amid Rumors Of Departure
KEY POINTS
The Milwaukee Bucks are eliminated by the Miami Heat in the Playoffs
Giannis Antetokounmpo wants to build a culture in Milwaukee despite a speculated exit from the team
Antetokounmpo says he appreciates the Bucks for not forcing him to play in Game 5
The Milwaukee Bucks settled with a conference semis finish despite having the best record in the NBA regular season, prompting louder speculation that Giannis Antetokounmpo could leave the team in the free agency of 2021.
But the reigning MVP does not appear to be moved by the outside pressure, at least for now, saying he wants to build a winning culture with the Bucks.
"Hopefully, we can build a culture in Milwaukee that for many years we can come out and compete every single year for a championship," Antetokounmpo said after the Bucks got ousted by the Miami Heat in the Playoffs on Tuesday.
The 25-year-old was left watching from the sidelines as his team played the last game of their stellar season. He missed Game 5 as he continues to deal with a right ankle sprain that was aggravated on Sunday.
The Greek Freak was initially listed as questionable for the game and there was some optimism that he could suit up to lead the team in extending the series.
But the Bucks eventually decided to play sans their best player in a do-or-die game. And although he is frustrated, Antetokounmpo could not help but appreciate his team's gesture of prioritizing his personal safety.
"I kind of feel lost, to be honest with you," Antetokounmpo said. "If it's up to me, I'd play with one leg. I really don't care. But at the end of the day, we have people on the team ... who have to protect my health no matter what.
"You know I want to play, I know I want to play, but at the end of the day my organization put my health over Game 5 and that's good for me."
Head coach Mike Budenholzer justified the team's decision, implying that saving their season is not worth putting his star player's health in peril.
"We couldn't let Giannis go out there," Budenholzer said, via the Washington Post. "He's not ready. He's not healthy. We can't put him at risk. Giannis would always play. He wants to be there for his teammates. Really, really hard for Giannis. I think it was pretty clear from everybody's — probably except for his — perspective, what needed to happen."
The Bucks managed to avoid getting swept despite losing Antetokounmpo early in Game 4. But the Heat responded with a huge comeback two days later to put a clamp on Milwaukee's spirited fight and advance to the Eastern Conference Finals for the first time in six years.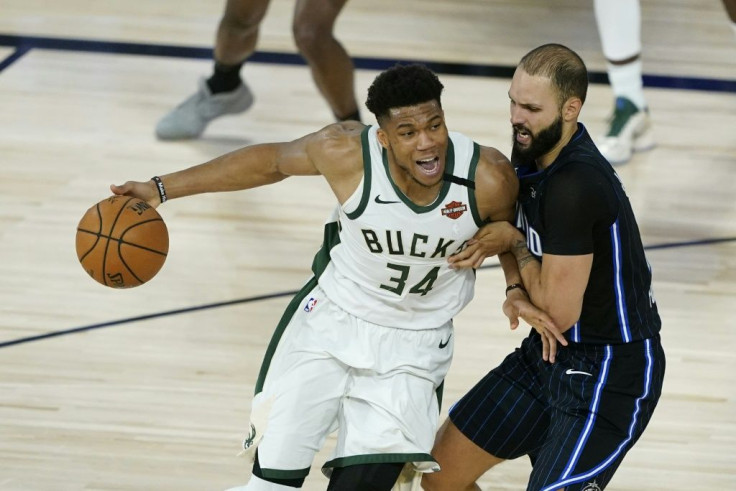 © Copyright IBTimes 2023. All rights reserved.
FOLLOW MORE IBT NEWS ON THE BELOW CHANNELS