Global Refugees 2015: More People Fleeing Home Than Any Other Time Since World War II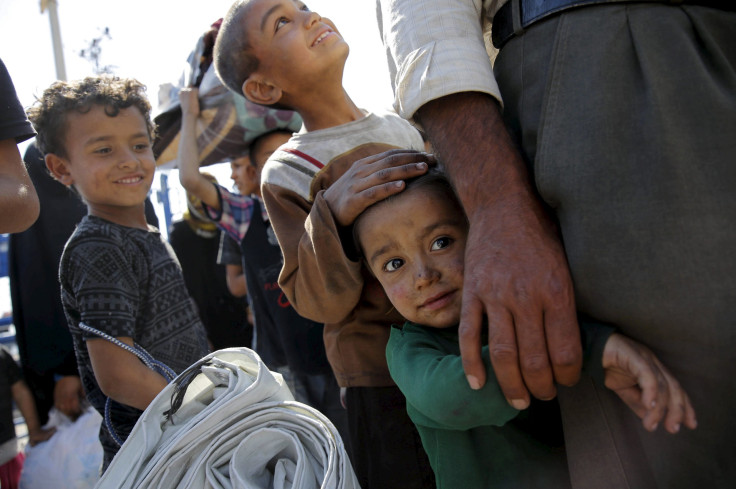 Violence, conflict and other crises have forced almost 1 percent of the world's population of more than 7 billion people out of their homes, the highest proportion since World War II, according to the 2015 Global Peace Index, published Wednesday. That number is not likely to fall anytime soon, as conflicts grow ever more intense.
More than 50 million people throughout the world are currently considered refugees and internally displaced persons, the index found. Turkey, where 1.59 million Syrians have fled, hosts more refugees than any other country in the world, according to statistics from the office of the United Nations High Commissioner for Refugees. The second-largest population of refugees lives in Pakistan, where 1.5 million from Afghanistan have fled in what is considered the world's most enduring refugee population.
On Monday, the international rights group Amnesty International called the international response to the global refugee crisis "shameful," pointing in particular to the high number of people who have died at sea in an attempt to reach safety, such as migrants crossing from North Africa to Europe and other populations trying to take refuge in Indonesia, Malaysia and Thailand.
The number of people killed in conflicts around the world also escalated dramatically in recent years, with the death toll overall more than tripling since 2010, the index, published by the Institute for Economics and Peace, found. In 2010, 49,000 people around the world died in conflicts. In 2014, that statistic rose to 180,000. In January, when the militant group Boko Haram massacred more than 2,000 civilians in Baga, Nigeria, that event constituted the most deadly terrorist incident since the attacks of Sept. 11, 2001, the report noted.
In addition to the obvious humanitarian argument for quelling conflict, there is a compelling economic one, Steve Killelea, founder and chairman of the Institute for Economics and Peace, pointed out. "Reducing conflict is a crucial plank in ensuring continued world economic recovery," he stated, according to a press release. "If global violence were to decrease by 10 percent uniformly, an additional $1.43 trillion would effectively be added to the world economy."
Conflict hasn't stricken all countries, and the ones that have been spared appear to be thriving in proportions inverse to states afflicted domestically or internationally. Many European nations are enjoying record peacefulness, even as countries such as Iraq, Syria, South Sudan and the Central African Republic continue to deteriorate and see spiraling violence.
© Copyright IBTimes 2023. All rights reserved.