GM Boosting Production Of Big SUVs And Trucks, Sources Say: Reuters Exclusive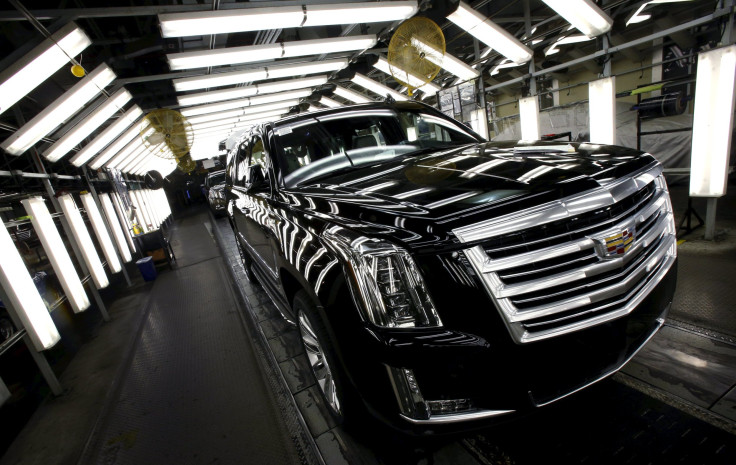 General Motors Co. (GM.N) is boosting production of its highly profitable large SUVs and trucks to a pace that could result in 48,000 to 60,000 additional vehicles for the 2016 model year, in a bid to capitalize on rising demand, sources told Reuters.
GM's Arlington, Texas, plant that makes full-sized sport utility vehicles including the Cadillac Escalade and Chevrolet Suburban added Saturday overtime shifts beginning on Aug. 1, a GM spokesman confirmed on Thursday. GM is also expected to boost output of pickup trucks, other people familiar with the company's plans said, but it was not clear how that would be done.
The Arlington plant is capable of making 400 big SUVs per shift, or about 1,200 in a full day's production, barring any planned or unplanned maintenance, said the sources, who wished to remain anonymous because GM has not announced its plans.
Adding one day a week to production for a full year could result in as many as 60,000 additional vehicles a year, although production is likely to be less because of maintenance downtime or parts shortages, said the sources familiar with GM's plans.
GM does not disclose profit margins on individual vehicles, but analysts and company executives say the large SUVs and pickups generate profit well above the average for GM's North American operations, which was a robust 10.5 percent in the second quarter.
"Industry sales are running ahead of expectations," said GM spokesman James Cain. "Sales of our full-size SUVs are very strong and we have been working to find creative ways to increase production to meet demand and rebuild our inventories."
He did not confirm the number of increased full-sized SUVs and full-sized trucks GM plans on an annual basis. Other individuals briefed on GM's plans said the target was as many as 60,000 additional vehicles.
GM dominates the lucrative large SUV market, which has enjoyed a resurgence as gasoline prices have fallen below $3 a gallon in most of the United States. GM models such as the Chevrolet Suburban and Tahoe and GMC Yukon reap pretax profit in excess of $10,000 a vehicle, analysts estimate.
The Cadillac Escalade built in Arlington is the top seller among luxury large SUVs, taking 30 percent of that segment in the United States.
Last month, the No. 1 U.S. automaker said it will spend $1.4 billion to modernize the factory in Arlington, the single largest investment in a $5.4 billion, three-year plant upgrade program announced earlier this year.
The vehicles built in Arlington alone generate about $3 billion or more in profit annually, or almost half of GM's $6.5 billion operating profit last year, analysts said.
Last year, the Arlington plant built about 286,000 large SUVs, according to data compiled by Automotive News. Through the first half of 2015, Arlington's production was up 26 percent from the prior year to nearly 154,000 vehicles.
Low gasoline prices, a rising economy and American consumers whose appetite for tall, large SUVs has grown steadily for decades have helped GM push up its profit margins in North America.
In recent months, GM has reported lower sales for its big SUVs, but the comparisons are skewed because in 2014, GM bulked up inventories of the vehicles ahead of a major redesign. More of those older models ultimately were sold to fleets.
© Copyright IBTimes 2023. All rights reserved.