GM Passenger Car Sales Slump, But SUV And Pickup Set Records
General Motors first-quarter sales report released Tuesday made for dismal reading with sales plunging 7 percent year-on-year and all of its major brands failing to register sales growth.
Sales of traditional passenger cars continued to slow, dragging down GM motor vehicle sales for the quarter. On the upside, GM noted with satisfaction that buyers are flocking to its more expensive SUVs and pickup trucks. Trucks, SUVs and crossovers comprise 80 percent of GM's sales.
GM delivered 665,840 vehicles in Q1, down 6.98 percent year-on-year. Cadillac sales dropped 2 percent to 35,995 units. The Cadillac ATS saw a mammoth 86 percent sales plunge while Cadillac XTS sales careened 23 percent.
Chevrolet saw sales fall 7.8 percent to 452,401 units. GM said the decline was due to a 16 percent drop in sales (114,313 units) of Silverado pickups.
On the other hand, smaller crossovers such as the Chevrolet Trax and Equinox, and midsize Chevrolet Colorado pickup posted first-quarter sales records. The GMC Acadia SUV had its best quarter ever.
GMC sales dropped 4.4 percent to 125,577 units led by a 2.2 percent decline in sales of the Sierra (40,546 units sold). Sales of the GMC Savana, however, grew a hefty 35 percent.
Buick sales plunged 8.7 percent to 51,867 vehicles. The brand's top-selling vehicle, Encore, saw a 3.38 percent decrease in sales to 24,606 units. Sales fell 21.4 percent for Envision, 59 percent for LaCrosse and 8.09 percent for Regal.
Transaction prices (or the final sales price) on GM's newest pickups rose $8,040 compared to outgoing models in the same quarter of 2018. GM said this hike reflected the continued interest among buyers for well-equipped trucks.
More than 96 percent of the GMC Sierra crew cab pickup (a four-door full-size truck) was sold with more expensive high-end trims.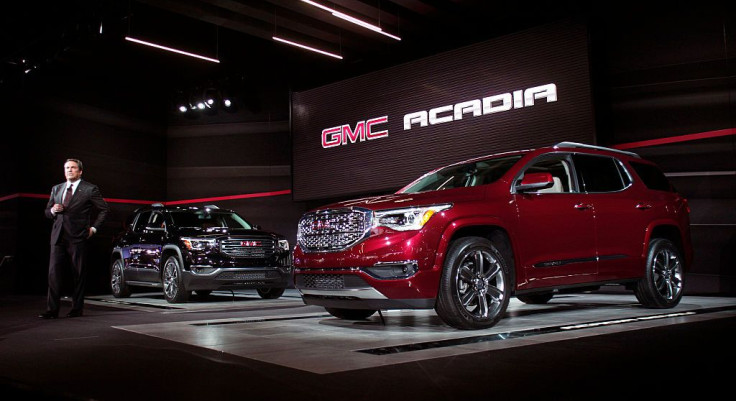 GM plans to launch more full-size pickups in the second half of the year with two new heavy duty pickups from Chevrolet and GMC.
"We are bullish on pickups and expect to gain sales momentum throughout the year," said Kurt McNeil, vice president of U.S. sales operations. "We are installing capacity in Flint to build more HD pickups in total, more crew cab models, more dualies and diesel models, too, all in response to dealer and customer demand."
Shares of GM improved 5.6 percent over the last 12 months and are up by nearly 13 percent since January.
© Copyright IBTimes 2023. All rights reserved.