GM Recall 2014: Pictures Of The Tiny Ignition Switch Part That Could Cost General Motors Dearly [PHOTOS]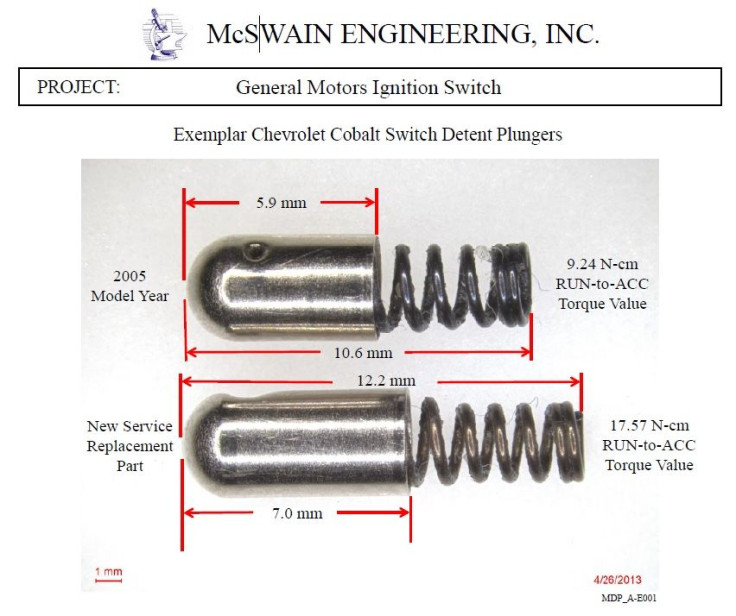 The distance between life and death could be 1.6 millimeters.
At least that's the theory proposed by McSwain Engineering Inc., a Pensacola, Fla.-based failure analytics firm that took a scientist's eye view and an X-ray machine to the ignition switch that has become the focus of a recall by General Motors of 1.6 million cars manufactured between 2005 and 2007.
The results of McSwain's analyses show just how much small mechanical differences in automotive components can affect people's lives. Had it not been for the death of a 29-year-old nurse in Georgia, the expert eye of a Mississippi auto mechanic and forensic engineers in Florida, these images that explain precisely what is wrong with the ignition switch would not exist.
At least 13 people have been killed in 31 accidents linked to this component since 2004, and GM is facing intense scrutiny over how the world's second-largest automaker handled the apparent design flaw that caused vehicles to shut down while moving. Evidence is mounting that GM engineers were aware of a problem as far back as 2004, enough so that the part in question was quietly tweaked later to add that 1.6 millimeters of length to a component that holds the ignition key in place.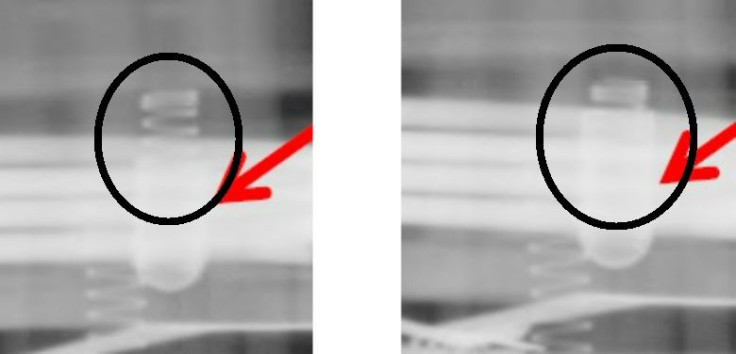 What is exactly the problem? How can an ignition key switch from the "on" to the "accessory" position while the car is moving, shutting down power steering and airbags and causing cars to careen with little handling ability while their drivers try to stop?
It all has to do with a tiny so-called switch detent plunger inside the ignition switch controller. It's attached to the end of the ignition key cylinder in the steering column. Confused? Look at the images provided by McSwain Engineering to International Business Times on Tuesday.
"It's like the top of a ballpoint pen," explains Charlie Miller, owner of Charlie Miller Shop auto repair in Merigold, Miss. "The detent is that part that you push down on against a spring to extend the tip. The problem is that the spring was too weak."
Miller was hired by Lance Cooper, a personal injury lawyer in Marietta, Ga., to examine the Chevrolet Cobalt driven by Brooke Melton, a 29-year-old nurse who was killed on March 10, 2010, in an accident linked to this weak spring.
Miller's findings were taken to McSwain early last year for a more thorough analysis of Miller's initial discovery, which included comparing the ignition switch in Melton's vehicle with ones made later. The evidence was so compelling that GM settled with the Melton family last year for an undisclosed sum.
"Charlie discovered there was different torque in the spring," Mark Hood, a forensic engineer at McSwain, told IBTimes by phone on Wednesday. "We went into it without any idea what was going on. The issue now is it's not clear when GM knew what was going on."
The recall involves six models: the Chevrolet Cobalt (2005-2007 model years), the Chevrolet HHR (2006-2007), the Pontiac Pursuit (2005-2006), the Pontiac Solstice (2006-2007) the 2007 Pontiac G5, the Saturn Ion (2003-2007) and the 2007 Saturn Sky.
FOLLOW MORE IBT NEWS ON THE BELOW CHANNELS