Gold Prices Climb Towards $1,600 As Euro Firms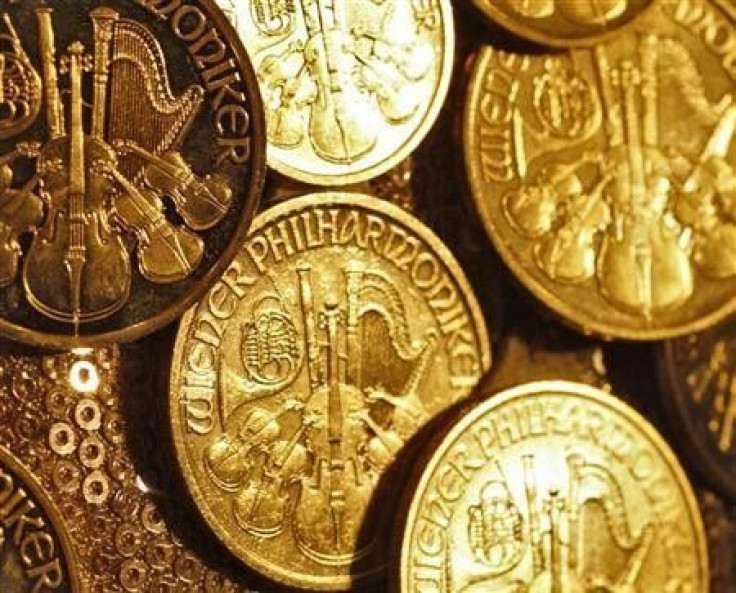 (REUTERS) -- Gold prices rose towards $1,600 an ounce on Tuesday in line with the firmer euro as investors awaited a statement from Federal Reserve chair Ben Bernanke later, after soft U.S. data fuelled talk he may hint at fresh measures to stimulate the economy.
Expectations have grown that Bernanke, who will testify before Congress at 1400 GMT, may hint at another round of quantitative easing after U.S. retail sales fell in June and the International Monetary Fund cut its global growth forecast.
Further monetary easing would be gold-friendly, weighing on the dollar and maintaining pressure on long-term interest rates, which keeps the opportunity cost of holding bullion low. However, if more QE isn't mentioned, gold could quickly correct.
As it sees the U.S. data continue to deteriorate, the market is starting to anticipate some kind of action, or at least rhetoric, from the Fed to support growth, Deutsche Bank analyst Daniel Brebner said.
Will Bernanke come out dovish as usual? I think so. Will he explicitly discuss his options? I'm not convinced he will. So I'm not sure he's going to give the market what it wants.
Spot gold was up 0.4 percent at $1,595.19 an ounce at 0928 GMT, while U.S. gold futures for August delivery were up $3.60 an ounce at $1,595.20.
The metal has traded within a $150 range for the last three months, largely tracking the euro/dollar exchange rate, a key price driver, as it awaits clearer direction on U.S. policy.
The dollar fell against the euro on Tuesday and European stocks rose ahead of Bernanke's testimony. Most investors are positioning for more QE, but analysts saw a risk the dollar may bounce or assets such as stocks could drop if Bernanke stops short of signaling more easing.
Crude oil prices rose and industrial metals like copper also firmed. Gold has traded more closely in line with other commodities last year, after trading against them and in line with so-called safe havens like Bunds and the dollar last year.
There was little to suggest bullion was ready to decouple from the rest of the complex, VTB Capital said in a note. It is most likely to continue tracking other commodities, with plenty of macro numbers being released this week, as well as Bernanke's testimony to the Congress later today.
INDIAN DEMAND WEAK
Physical demand in India remained lackluster, with gains in the rupee versus the dollar, which make gold cheaper for local buyers, failing to stimulate much fresh buying.
India's festival season, during which weddings will also take place, will start in August and continue until November. India is historically the world's biggest bullion consumer, though China, where recent buying has also been soft, has emerged as a challenger to that title.
Physical markets are... uninspiring, with volumes in China and India remaining at subdued levels, UBS said in a note. Shanghai Gold Exchange gold volumes in the last five days have been just under 5,700 kg, which is 30 percent below the 12-month rolling average.
The world's largest gold-backed ETF, New York's SPDR Gold Trust, said its holdings fell another 3.6 metric tons (1 ton = 1.1023 metric tons) on Monday, meanwhile, bringing total outflows since the start of the month to 13.4 metric tons. In the same period of the previous month, they rose just over 7 metric tons.
Among other precious metals, silver was up 0.7 percent at $27.49 an ounce. The gold/silver ratio, which measures the number of silver ounces needed to buy an ounce of gold, held near its 2012 highs at 58 as silver underperformed.
Spot platinum was up 0.5 percent at $1,419.25 an ounce, while spot palladium was up 1.1 percent at $579.50 an ounce.
Data from auto industry group ACEA showed European car sales for June declined to the slowest pace in eight months. Platinum group metals, which are chiefly used in catalytic converters, are heavily exposed to the car industry.
While southern European countries in particular recorded a sharp drop in sales, the German and British car markets showed themselves to be relatively robust, Commerzbank said in a note.
If car sales were to pick up again, this should have a positive impact on platinum and palladium, which are used to manufacture autocatalysts, it said. Because diesel engines are more widespread in the EU, platinum would be likely to profit in particular.
© Copyright Thomson Reuters 2023. All rights reserved.