Goodluck Jonathan Boko Haram Scam: In Nigeria, Former Peoples Democratic Party Leader Faces Corruption Charges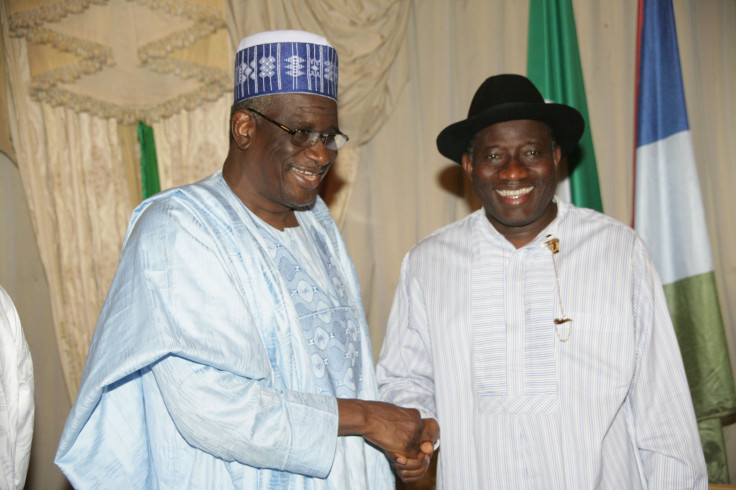 A former acting chairman of one of Nigeria's most powerful political factions, the Peoples Democratic Party, was arraigned on corruption charges Tuesday in the Abuja high court. Haliru Mohammed Bello, who was charged with his son, Abbah, pleaded not guilty to all four counts of money laundering and criminal breach of trust, according to local media.
Bello, his son and their realty firm, BAM Projects & Properties Ltd., are accused of fraudulently collecting 300 million naira (about $1.5 million) in March last year. The defendants allegedly accepted the money, which they "claimed to have received for political campaign," from then-National Security Adviser Sambo Dasuki, who served under former President Goodluck Jonathan, according to the Punch.
The amount was apparently part of some $2 billion in funds earmarked for fighting the Boko Harm insurgency in Nigeria, which Dasuki allegedly diverted. Dasuki, a retired colonel, who is also facing trial, denies any wrongdoing. He was re-arrested on Dec. 30 despite being granted bail by three different courts, Premium Times reported.
Bello served as the defense minister under Jonathan before he was appointed by the Peoples Democratic Party Board of Trustees as acting chairman. Muhammadu Buhari defeated Jonathan in the March presidential polls on promises to fight corruption and Boko Haram, marking the first time in Nigeria's history that an incumbent president lost to an opposition candidate in a general election. Jonathan's Peoples Democratic Party also lost majority legislative power to Buhari's All Progressives Congress after 16 years of majority rule. The Peoples Democratic Party has lost popularity in recent years in part because of numerous allegations of corruption and graft.
In a widely circulated 18-page letter, Jonathan's predecessor Olusegun Obasanjo accused Jonathan of failing to deliver on promises to the Nigerian people such as defeating Islamic militant group Boko Haram and tackling rampant corruption. The former president also blamed Jonathan for the fall of the once-ruling Peoples Democratic Party.
"Nigeria is bleeding and the hemorrhage must be stopped," Obasanjo wrote in the letter dated Dec. 2, 2013, according to Premium Times.
© Copyright IBTimes 2023. All rights reserved.