Google News Adds Realtime Coverage, Google Plus Discussion: Is The Information Provided Actually Relevant?
Google News has added features that will give readers realtime data surrounding news stories, but the company has failed to acknowledge Twitter and Facebook once again.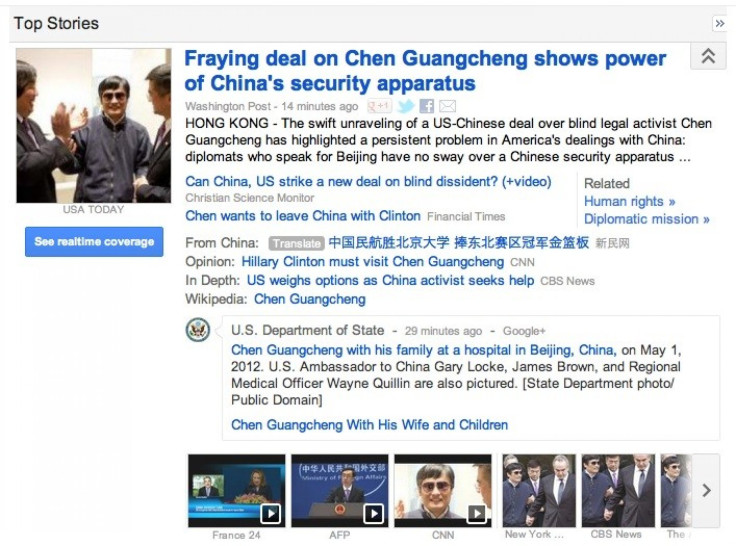 Google News U.S. Edition has added new features to its homepage that will help keep readers updated one the latest news breaks. In addition to adding Google Plus discussions to each news story on the landing page, Google News has unveiled a feature called Realtime Coverage, which shows breaking news stories much like a Twitter feed would.
The latest update to the Google News homepage is a big departure from the way stories were previously presented. Though the most popular news stories are still shown in small clusters, the news clusters that populate the landing page are now accompanied by a stream of Google Plus comments that appear below stories. Google New has also added a See realtime coverage button.
The realtime coverage feature is by far and away the most prominent addition to the news aggregation service. Once realtime coverage is activated, Google News reloads in a new format. Google News begins showing news as it breaks from major news sources in a section aptly titled Realtime Coverage at the top of the page. If the user scrolls down a bit further, they'll see a section called Your preferred source, which pulls news from the organizations that the user has specified in the Google News settings. Even further down the screen is a section called In Depth, which highlights articles that delve deeply into a given subject. The realtime coverage page, in essence, is a more spacious, provides larger photo previews and updates more frequently than the homepage.
On the right-hand side of the realtime coverage page, the most popular and up-to-date Google Plus posts accompany the news stream. Users that pop up in the Google Plus discussion stream do not have to be added to a person's circles. The service simply presents those that are generating discussion on a given topic.
The realtime coverage window feature aims to give readers the latest and most pertinent information surrounding a news story. Readers are able to see breaking news as it is scanned by Google, and they're also able to see conversations about the breaking news.
Is The Information Relevant?
Google News needed to add a social element in order to keep up the voracious pace of the news cycle, especially now that news is often disseminated using social networks. But, questions must be raised about whether the information that Google News has chosen to present is actually the most relevant.
In essence, is Google Plus going to show me the most interesting and most frequently updated social network conversations surrounding a given news story?
The answer is yes, only if Google Plus becomes the most prominent social network for hosting news stories, which, weeks before Facebook's highly publicized IPO, seems unlikely.
By injecting Google Plus into its news aggregation service, Google is essentially force-feeding its social network to its existing users. The same happened months ago when Google announced search plus your world, where the company injected its bastardized social network into its most prominent existing product, the Google search engine.
Focus on the user, a bookmarklet created by Facebook, Myspace and Twitter engineers, previously side-stepped Google's efforts to push Google Plus onto users in the search engine. The bookmarklet that was created proved that the Google search engine was capable of finding relevant social data, but that Google had decided to essentially downgrade search results of Twitter and Facebook and instead favor its own social network. In the same way, Google News has ignored more relevant data that's available on Twitter and Facebook.
If Google actually cared about providing the most relevant information to readers, it would have found a way to draw conversations happening on Facebook and Twitter into the Google News feed. After all, those are the most prominent and most relevant social news-sharing networks. Instead, the company is begging for its users to use its second-tier social network. While this will undoubtedly enhance the way I consume news via Google News, at this moment, I can't regard the conversations taking place there as the most relevant -- and I doubt that I ever will.
© Copyright IBTimes 2022. All rights reserved.
FOLLOW MORE IBT NEWS ON THE BELOW CHANNELS