GOP contenders aim criticism at Obama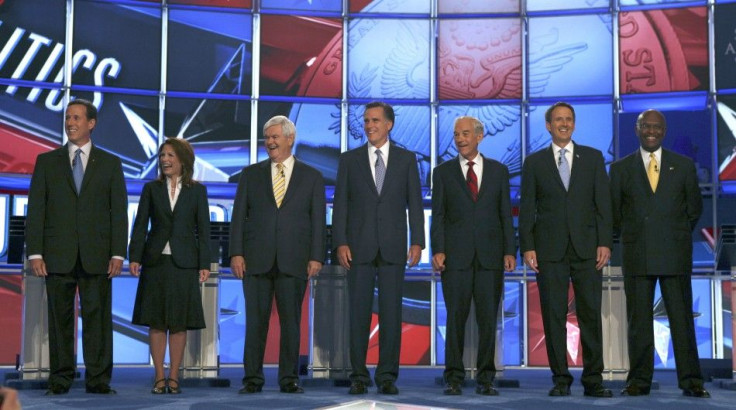 Republican presidential hopefuls aimed their criticisms at President Barack Obama in the first major debate of the 2012 campaign as Minnesota Rep. Michele Bachmann announced she is entering the race.
Bachmann, a Tea Party darling, became the first female contender to enter the 2012 race. Bachmann is attempting the rare leap from the U.S. House to the presidency.
We cannot risk giving President Obama four more years to dismantle our nation. We must act now. That's why I've made the decision to get in this race, she said.
The debate, hosted by CNN, took place at St. Anselm College in Manchester, New Hampshire. While the Republican primary elections do not start until February of 2012, many have already announced their candidacy and are making stops in key states that will be among the first to carry primaries
Six of Bachmann's rivals were also in attendance: Former Govs. Mitt Romney of Massachusetts and Tim Pawlenty of Minnesota, former House Speaker Newt Gingrich, Texas Rep. Ron Paul, former Pennsylvania Sen. Rick Santorum and businessman Herman Cain.
And they all took alternated taking jabs at President Barack Obama's policies.
When 14 million Americans are out of work we need a new president to end the Obama Depression, said former House Speaker Newt Gingrich, the first among the contenders to criticize the president's economic policies.
Former Minnesota Gov. Tim Pawlenty labeled Obama a declinist who views America as one of equals around the world, rather than a special nation.
If Brazil can have 5 percent growth, if China can have 5 percent growth, then America can have 5 percent growth, he said.
Former Sen. Rick Santorum accused the president of pursuing oppressive policies that have shackled the economy.
Rep. Ron Paul of Texas said: As long as we are running a program that deliberately weakens our currency, our jobs will go overseas. And that's what's happening.
Pawlenty also seemingly sidestepped the opportunity to repeat his recent criticism of the Massachusetts state health care law former Gov. Mitt Romney signed, which includes a requirement for residents to purchase coverage, a model for the individual mandate much condemned by conservatives in the new federal law.
My using 'Obamneycare' was a reflection of the president's comments, Pawlenty said, referring to the phrase he used in a Sunday interview.
Romney took a higher ground and did not debate the issue with Pawlenty, choosing, rather, to call the auto bailout a mistake.
Instead of thinking in the federal budget what should we cut, we should ask ourselves the opposite question 'What should we keep?'
All candidates were in agreement the Obama health care law was detrimental to the country. All pledged to repeal the health care law Obama urged Congress to pass early in his term.
© Copyright IBTimes 2023. All rights reserved.