Gov. Walker Has Slim Polling Lead In Wisconsin Recall As Badger State Prepares To Vote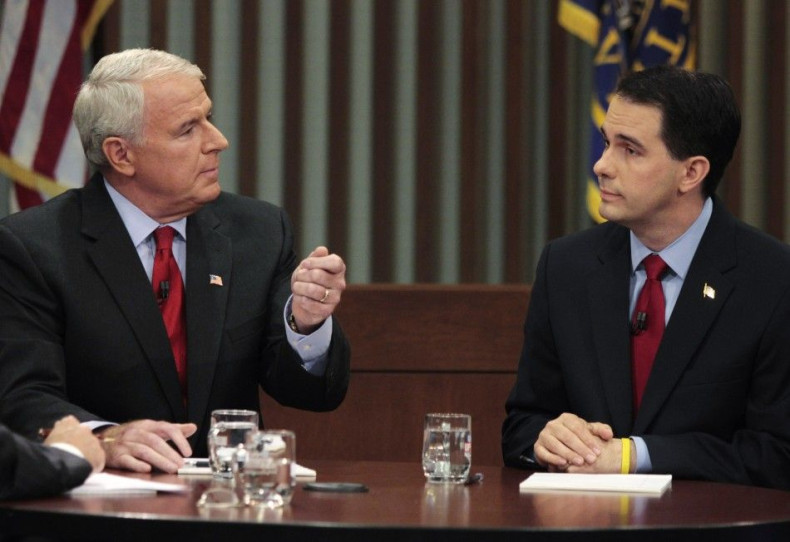 Polls show Governor Scott Walker of Wisconsin slightly ahead of his Democratic rival on the eve of a recall election that has attracted national attention and a tsunami of outside spending.
A new survey from Public Policy Polling gives Walker a 50-47 point advantage over his opponent, Mayor Tom Barrett of Milwaukee, a lead that is within the poll's margin of error. Walker's polling edge over Barrett has narrowed as the election has drawn closer, suggesting a close finish to what has been an extraordinarily contentious campaign.
Walker ascended to the governor's office during the Republican wave of 2010, and his aggressive push to limit the collective bargaining powers of public unions generated a swift backlash. Opponents charged Walker with eviscerating workers' rights under the guise of balancing the budget, and a drive to recall him generated thousands more signatures than the minimum needed to force an election.
The election is being closely watched as a barometer for how the American public views the Republican party's aggressive cost-cutting agenda. Likely Republican nominee Mitt Romney has spoken in support of Walker and has echoed his critique that unions use their political clout to preserve wages and benefits that are straining budgets.