Government Shutdown 2013: Reid To Kill Another Obamacare Attack In Continuing Resolution Battle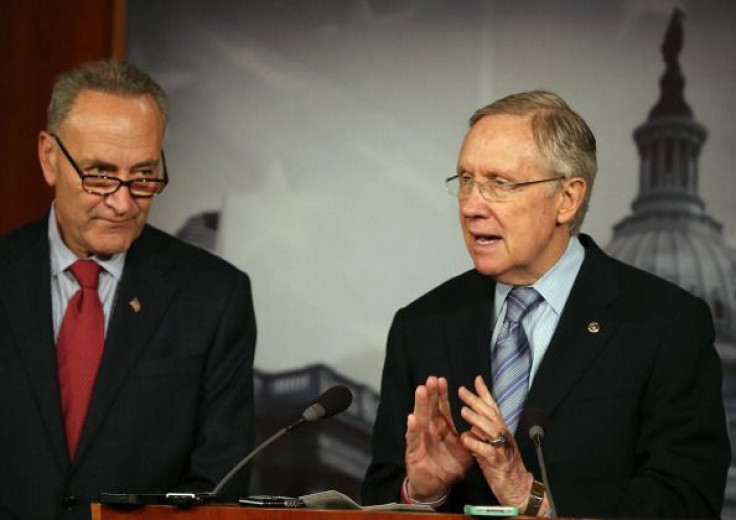 Mere hours before the Monday midnight EDT deadline, a U.S. government shutdown is almost certain, as lawmakers are nowhere close to making a deal. Now, it's a race against the clock for the two chambers of Congress to reach a deal as the strategies used by the leading parties in both chambers suggest the nation will experience its first stoppage of non-essential federal service in 17 years.
When the Senate reconvened at 2 p.m. today, Senate Majority Leader Harry Reid, D-Nev., moved swiftly to reject the latest House Republican proposals, which called for a one-year delay of the Affordable Care Act, also known as Obamacare, and the repeal of the medical device tax.
The medical device tax is a 2.3 percent tax on the sale of medical devices by the manufacturer or importer. The Joint Committee on Taxation estimates that it would result in $29.1 billion in revenue over the next decade -- an important revenue component of the Affordable Care Act.
Reid has said that the latest 231-192 vote by the House was "pointless." True to his word, the Nevada Democrat stood firm, saying he will discard any Republican legislative attempt to do away with or make any changes to Obamacare. In a separate vote, the House voted 423 to zero to ensure that uniformed and civilian employees of the U.S. Department of Defense get their paychecks should there be a shutdown.
If lawmakers can't find a compromise in time, there will be a government shutdown that would likely furlough nearly 800,000 federal employees and create backlogs in the system -- a scenario that would lower U.S. GDP growth for the fourth quarter, and perhaps in 2014, as well. During the last shutdown in 1995-96, about 20,000 to 30,000 foreign applicant visas went unprocessed daily, according to PBS,and so too did another 200,000 U.S. applications for passports. [Here's a New York Times graphic detailing who will be furloughed at the various agencies and departments.]
"After weeks of futile political games from Republicans, we are still at square one: Republicans must decide whether to pass the Senate's clean [continuing resolution], or force a Republican government shutdown," Reid said in a statement over the weekend. "Senate Democrats have shown that we are willing to debate and vote on a wide range of issues, including efforts to improve the Affordable Care Act. We continue to be willing to debate these issues in a calm and rational atmosphere. But the American people will not be extorted by Tea Party anarchists."
Damage Control
As a result of Reid killing the House-passed proposal, it is now up to House Speaker John Boehner, R-Ohio, to decide whether to pass a clean 2014 continuing resolution -- one that funds the government at $986 billion, including Obamacare -- or come up with another strategy in time to break the impasse. If the new Republican tactic proceeds with another bill that delays or defunds the health care law, there's a strong probability that the Democratic-led Senate will vote down that measure, as well.
According to a recent CNN/ORC poll, if there is a federal government shutdown over Obamacare, Congressional Republicans would bear the brunt of the blame (46 percent).
Faced with that public opinion dynamic, House Republicans started pre-emptive damage control this weekend. House Republicans worked all day Saturday and implored the Senate to return to Capitol Hill to make a deal. With Reid already putting them on notice that he and his colleagues wouldn't budge until Monday afternoon, the GOP held a press conference on Sunday on the steps of the Capitol, where House Republican Conference Chair Cathy McMorris Rodgers, R-Wash., criticized Reid for keeping the Senate's doors closed.
"We were here taking action to ensure that the government would be kept open," she said. "The Senate needs to act. Why are they waiting? Why aren't those doors open?"
Rep. Tim, Griffin, R-Ark., said the fact that senators weren't working and "Harry Reid is off somewhere is all the evidence you need to know that they want to shut down the government."
"I've been told that by high-level Democrats in town that this has been a plan for a while," he added. "And I personally believe that Sen. Reid and the president, for political purposes, want to shut down the government."
That afternoon, the White House issued a statement saying the House GOP bill binding a one-year Obamacare delay to the continuing resolution is a prelude to a government shutdown. The White House said congressional Republicans had the opportunity to pass a routine, simple continuing resolution to keep the government running but chose to "make an ideological point by demanding the sabotage of the health care law."
"Republicans have tried and failed to defund or delay the health care law more than 40 times, and they know this demand is reckless and irresponsible," White House Press Secretary Jay Carney said. "Any member of the Republican Party who votes for this bill is voting for a shutdown. It's time for the House to listen to the American people and act, as the Senate has, in a reasonable way to pass a bill that keeps the government running and move on."
© Copyright IBTimes 2023. All rights reserved.