Grassroots Group Tries To Bypass Fiscal Cliff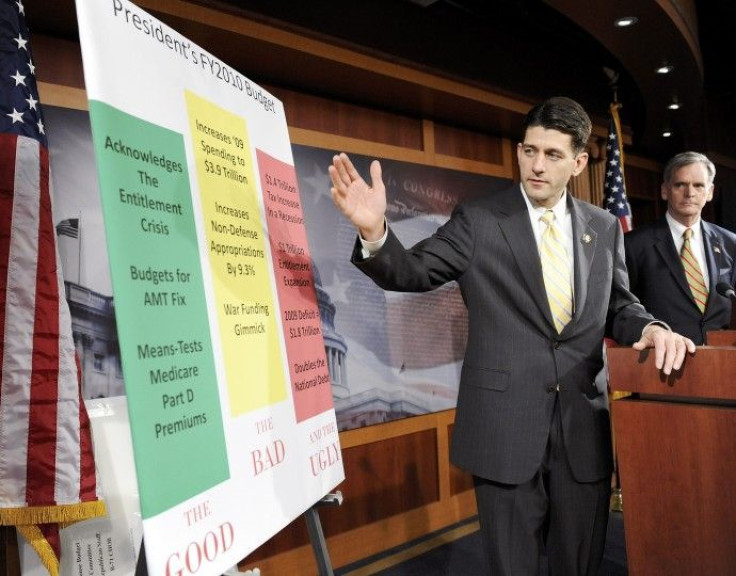 Aimed at guiding Congress through a more sustainable path to long-term economic growth, a new bipartisan campaign, Fix The Debt, was announced at a press briefing at the National Press Club on Tuesday afternoon.
Washington has been weighed down by demands to avoid an alarming fiscal cliff -- an overhang that will arise when tax increases and automatic government spending reductions on the country's economic growth bites the public. A Congress-approved increase in the debt ceiling and a claw-back of $741 billion in government expenditures last year raised an outcry about the country's escalating long-term debt situation and fiscal health.
We face two fiscal challenges -- growing the economy faster and reducing the looming debt. The threat of a serious and devastating debt crisis in the U.S. is real, and can be ignored no longer, Alice Rivlin, founding director of the Congressional Budget Office, said in a statement. Failure to act would be devastating, but, if we get it right, we have a huge opportunity to restore America's economic vitality.
Washington is also being upbraided for endorsing temporary quick-fix solutions, including one-year extensions, which lobbyists say, will do little to address the country's long-term national debt and deficit problems.
Without significant, fundamental and comprehensive reforms, the debt will reach 90 percent of the economy within 10 years and exceed 250 percent by the early 2040s. Campaign Co-Chairman Sen. Judd Gregg said in a statement. These crippling levels of debt threaten the strength of our economy, our standards of living and the prosperity of future generations.
Armed with more than 10 steering committee members including Sen. Judd-Gregg (R-NH), Sen. Sam Nunn (D-Ga), former Pennsylvania Governor Ed Rendell and Dave Cote, CEO of Honeywell, the fiscal welfare outreach program seeks to work with members of Congress on issues of economic policy framing, and build awareness and rally support, among the public, to push for a holistic plan that will address concerns in every corner of the budget, including entitlement programs and tax structures.
The steering committee hopes to garner a massive movement among U.S. citizens by educating them about the effects of the country's national debt morass and urging them to sign a petition that will get Congress to undertake concrete steps aimed at debt reduction.
We can't do this without public support, Mark Goldwein, a policy director at the Committee for a Responsible Federal Budget, a fiscal advocacy organization, said in an interview. Americans are willing to make sacrifices so long as everyone is in it together.
Campaigners are confident that the outcomes of the upcoming presidential elections will have little effects, if any, on the results of their own crusade for better fiscal and economic welfare. However, they are also practical about their expectations. We don't think anything will happen before the elections, said Caroline Langdale, a spokesperson for the Glover Park Group, the public relations agency that mans the campaign. Our goal is to have enough support from the public to get the Congress to pass legislation from 2013.
The campaign will run across the U.S. at a grassroots level with operations expected to roll out through fall this year during the Congressional lame duck season in the lead-up to the upcoming presidential elections.
© Copyright IBTimes 2022. All rights reserved.
FOLLOW MORE IBT NEWS ON THE BELOW CHANNELS