Gray Lady Down? New York Times Struggles With Changing World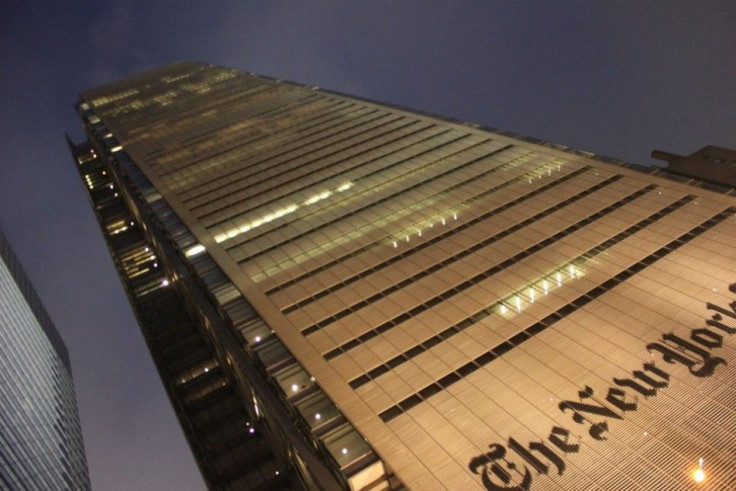 The New York Times (NYSE: NYT), the premier newspaper in the United States, if not the world, recent announced another round of buyouts and potential job cuts – the third such restructuring since 2008.
Like all other print media, the Times is trapped in a thicket of problems it is struggling to cope with – an environment of falling advertising revenues, slipping subscriptions and increased competition from online news outlets (like the one you are kindly reading now).
But the Times is not just any other paper – indeed, despite its legion of critics, the so-called "Grey Lady" remains one of the most influential, prestigious and respected vehicles in journalism.
International Business Times spoke to an expert on politics and media to sort out the New York Times' problems and what its future may hold.
Jamie Chandler is a political scientist at Hunter College in New York City.
IB TIMES: The New York Times is suffering from the same troubles as other print publications -­ falling ad revenues and dwindling subscribers. But have they not compensated for these shortcomings through paid digital subscriptions?
CHANDLER: The digital subscription business is growing, but not at a rate that generates The New York Times enough revenue to compensate for its advertising losses.
At the end of 2011, the Times had 406,000 digital customers. Surprisingly, the service boosted its home-delivery orders. But digital continues to be nascent, and the Times only recently executed a more effective online strategy; it hasn't been a leader in electronic publishing.
For most of the past few years, its digital strategy has been in flux. It hasn't kept up with industry trends nor changing demographics.
The paper is also having difficulty converting its trial digital members over to paid subscriptions. Other major publishers are having this trouble, too.
News Corp, for example, just shut down its digital publication The Daily this week because of low readership.
IB TIMES: Why are ad revenues falling? Is it due to the still-fragile economy? Or is it because advertisers want to put their money on online news outlets?
CHANDLER: The economy is part of the reason why advertising revenue is falling, but it's also because of a larger trend in print media. Lower consumer spending coupled with economic recessions in the Northeast U.S. have made it difficult for New York Times to attract advertisers: particularly because a lot of [its] advertisers fall in the luxury brand category. The paper is also increasingly becoming the less preferred option for companies to advertise in because it has less flexibility promoting their products on the Internet or through social media.
IB TIMES: But even digital advertising is falling for the Times. Why is this, when presumably more people are accessing the paper on their mobile units?
CHANDLER: The paper competes with multiple online media outlets that offer advertisers higher rates of impressions, and lower rates for advertising space. Their current business model isn't attractive to the changing trends in consumer marketing.
Moreover, the Times still has way to go to get a large subscriber base for its digital publication; 406,000 subscribers doesn't offer advertisers enough value proposition to ensure that their investment will yield higher sales for their products.
IB TIMES: Have other major newspapers across the U.S. been laying off employees and offering buyouts to managers as the Times has?
CHANDLER: Several publications are suffering similar problems. Last spring the Chicago Tribune let go of several journalists because of declining revenues, and the Los Angeles Times had a few rounds of layoffs and ceased publishing its magazine because of declining advertising revenue.
Several papers have also closed their U.S. and international bureaus.
IB TIMES: From my perspective, the Times caters to well-educated, upper-middle-class (or wealthy) urban liberals. When I ride the subway, I never see blue-collar people (regardless of race) reading the New York Times. Am I wrong in this assessment?
CHANDLER: The Times is an elite level publication. Readers of lower socioeconomic status are drawn to other publications because they target them. Their content is positioned in a way to appeal to working-class tastes.
However, the Times indirectly reaches these audiences. Regional and local papers tend to mirror the Times' daily news features. The Times also influences coverage on television news and many of its stories in and of themselves become news, especially breaking news on politics.
IB TIMES: Do the New York Post and New York Daily News cater to readers that the Times either does not want or whom they have alienated?
CHANDLER: It's a matter of consumer appeal and brand. The New York Times has built significant brand equity with its higher-income subscribers. It would also be a challenge to sell to working-class readers.
Not to mention, the Times is more expensive than the Daily News or the Post. If the Times wanted to attract these readers, it would either need to redesign the paper, or launch a new publication to compete with those tabloids. But given the Times' current revenue situation, that's unlikely.
IB TIMES: The Times frequently features very esoteric subjects:- reviews of obscure books, travelogues to exotic lands most people cannot afford to go to. Does this add to its image as an elitist and out-of-touch paper?
CHANDLER: The Times is synonymous with a luxury brand. It attracts readers who want these topics. The Times is an elite publication, and it should stay that way. But it could create new content, especially online, that would give it a more modern feel: perhaps bringing in new columnists who can attract younger, tech-savvy readers.
IB TIMES: How do the demographics for the Times differ from those of the Wall Street Journal?
CHANDLER: The Journal has a large male readership: 82 percent reading the paper edition, and 57 percent for its digital version. The Journal is geared toward a business audience, not the general interest population, so it tends to have high rates of business and investment readers.
In contrast, the Times' gender split is 50/50, but both papers attract readers with higher incomes and education.
IB TIMES: Would the Times be better served by getting rid of the print product and becoming purely digital? Or would that entail other risks?
CHANDLER: This may happen at some point in the future, but as of now it's far too risky for the paper abandon its offline publication. It doesn't have enough digital subscribers to make this feasible.
A better, more profitable option could be to follow the St. Petersburg (Fla.) press' lead and convert the publication to a non-profit. This would allow the paper to focus more on quality journalism, and less on the bottom line. However, the Times' management has been reluctant to consider this alternative.
In 2009, Hollywood mogul David Geffen made a play to purchase the Times for just that purpose, but those talks went nowhere.
IB TIMES: Critics of the Times have long complained that the paper is "too liberal" and "out of touch." Could they increase readership if their editorials moved more to the center?
CHANDLER: It's a myth that the paper is too liberal and out of touch. This perception formed in the 1980s when President Ronald Reagan's administration criticized the paper and the mainstream media as "too liberal." The Times has admitted that some of its stories have had a left-slant, but a lot of this has to do with appealing to its urban readers.
The interesting thing about these recent conservative charges of a "liberal mainstream media" is that they don't account for the huge conservative media business, which has overtaken these elite publications. Fox News has the highest ratings of the three cable networks; Rush Limbaugh the highest ratings for radio, and conservative magazines, papers and blogs are very popular.
IB TIMES: In March of this year, the Times paid out $24 million to former co-chief executive Janet Robinson when she left. Are they financially tied down with similar burdensome compensation packages for other senior executives?
CHANDLER: Yes, the company is tied down with similar compensation packages, so it would be costly for them to reduce the number of their senior managers. But it's important to note that the Times' workforce as a whole is costly. A majority of its employees are unionized. Labor negotiations and contractual obligations make it difficult for the company to adjust its operations to respond to changing economic conditions. The Times' pension plans are also underfunded, which represents great risk to their financial condition and liquidity.
IB TIMES: In the 1940s and 1950s, New York City had something like seven or eight daily papers. How on earth did they co-exist and survive?
CHANDLER: There were more papers in the 1940s and 1950s because the demand for news was a lot greater. Since there was no television, and radio ownership hadn't yet reached market saturation, the various dailies had enough circulation and advertising revenue to stay in business.
Advertising was also a huge business since these papers didn't compete with the types of venues that the New York Times competes with today.
© Copyright IBTimes 2023. All rights reserved.
FOLLOW MORE IBT NEWS ON THE BELOW CHANNELS