Greece Approves Crucial Bailout Bill as Country Burns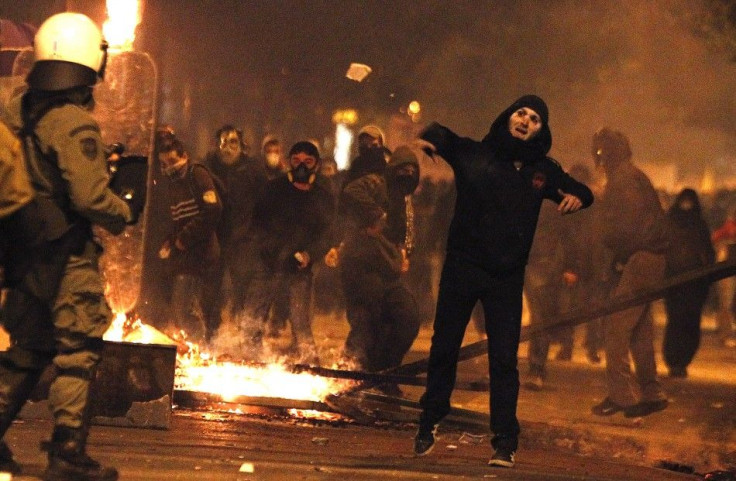 The parliament of Greece has approved an austerity and debt-relief bill, crucial for the country to avoid bankruptcy while violence has spread across the nation as furious protestors are demonstrating in the streets.
The vote was carried by 199 votes in favor of the €130 billion ($170 billion) bailout package, with 74 MPs voting against. After the vote, the two parties in the ruling coalition expelled 43 members for failing to support the cuts. The Socialists and conservatives expelled 22 and 21 members, respectively. The Parliament also approved a related deal to write off €100bn of Greek debt held by private banks.
"There are very few such moments in the history of a nation," said Greek Finance Minister Evangelos Venizelos, addressing Parliament before the vote. "Our country has an acute issue of survival," he added.
The vote came amid largescale violence in Greece, with protesters outside parliament throwing stones and petrol bombs. The protestors have raised concern that European demands to restructure their economy will further aggravate the already slumping situation.
Greece's rate of unemployment is 21 percent and prospects for the future look extremely gloomy. In the face of this, the newly approved measures will be slashing the minimum wage, trimming a fifth of government workers and cutting down entitlement spending. This has led to extreme criticism of the austerity plan in the country.
Street battles between police and protesters left Athens in flames. Several historic buildings in central Athens, including cafes and cinemas were set on fire by petrol bombs hurled by protesters.
"Vandalism, violence and destruction have no place in a democratic country and won't be tolerated, said Prime Minister Lucas Papademos in the parliament as it prepared to vote on the bailout package. "At these crucial times, we do not have the luxury of this type of protest. I think everyone is aware of how serious the situation is, he added.
Earlier in a television address to the nation late on Saturday, Papademos had spelled out the cost of rejecting the package. The country would be drawn into a vortex of recession, instability, unemployment and protracted misery and this would sooner or later lead the country out of the euro, he said.
© Copyright IBTimes 2023. All rights reserved.