Greece Economic Crisis: Alexis Tsipras, Angela Merkel Hold Debt Meeting, Press Conference In Berlin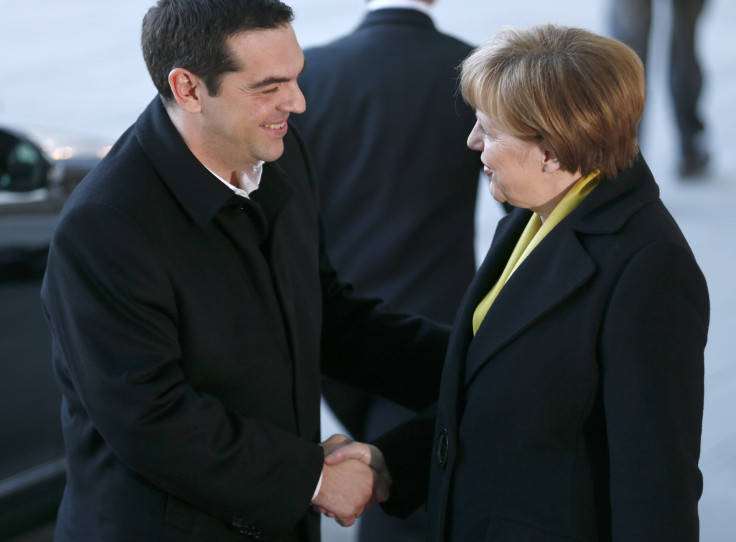 Greek Prime Minister Alexis Tsipras met with German Chancellor Angela Merkel Monday in Berlin amid tense relations ahead of Greece's looming deadline to repay part of its debt to European creditors. The pair held a joint press conference and struck a conciliatory tone despite mounting concerns the Greek government could run out of cash by April.
"We want Greece to be strong economically, we want Greece to grow and above all we want Greece to overcome its high unemployment," Merkel said during the press conference, according to the Guardian. Merkel added Germany will not consider paying World War II war reparations to Greece, but said the German government is aware of atrocities committed in Greece during the conflict.
Tsipras defended Merkel from detractors who have criticized her stance on war reparations and urged continued cooperation between Greece and Germany. "It is better to talk with one another than about one another," he said. Neither Merkel nor Tsipras said whether Germany was any closer to approving additional economic aid for Greece.
Tsipras was expected to present Merkel with an outline of his plans for economic reform in Greece. Diplomatic relations between Greece and Germany have been strained in recent weeks amid disagreements, and the German government warned the meeting was unlikely to produce a formal agreement, the Guardian said.
The European Union and the International Monetary fund led a coalition of creditors that gave Greece, which has flirted with bankruptcy since 2010, loans totaling 240 billion euros ($219.06 billion) to avoid an economic split from the eurozone. But a lack of liquidity has made it difficult for leaders in Athens to guarantee repayment of the debt, and a Greek official said last week the government only had enough money to repay 350 million euros ($319.46 million) to the IMF, Reuters reported.
Germany was the leading contributor to the Greek bailout fund and has been uncompromising in its demand for austere measures in Greece until the debt can be repaid. Merkel has said Germany will not allow Greece access to additional economic aid until Tspiras submits a concrete plan for economic reform and budget cuts, Bloomberg reported.
Tspiras vowed earlier this month to spearhead a series of reforms to be presented to the creditors who service Greece's debt. But he stated in a letter to Merkel last week it would be "impossible" to meet its debt obligations in the near future if European leaders did not unlock the necessary cash. Greece received a four-month extension on its debt deadline in February but has yet to negotiate a long-term repayment plan.
The European Union pledged an additional 2 billion euros ($1.83 billion) to Greece last week to aid the nation's short-term efforts to stave off poverty and unemployment, the BBC reported. "Humanitarian crisis it has been called, and it is indeed a humanitarian crisis," European Commission President Jean-Claude Juncker said.
© Copyright IBTimes 2023. All rights reserved.
FOLLOW MORE IBT NEWS ON THE BELOW CHANNELS