Greece Offers New Proposals To Avert Default, Creditors See Hope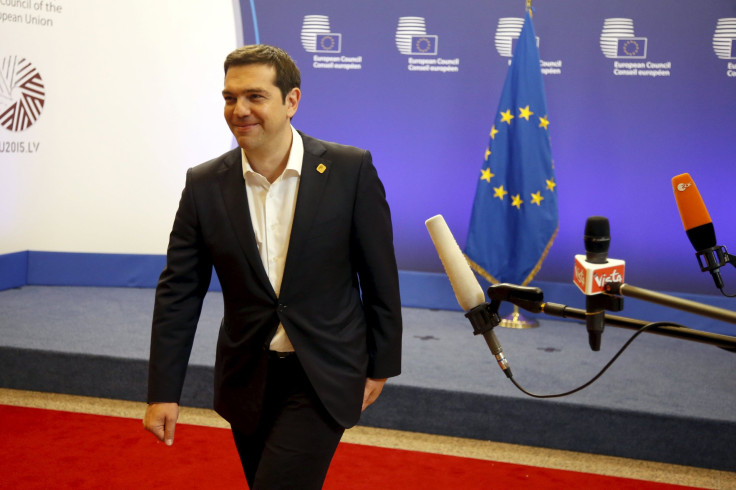 Greece took a step back from the abyss on Monday with the presentation of new budget proposals that euro zone leaders welcomed as a basis for a possible agreement in the coming days to unlock frozen aid and avert a looming default.
European Council President Donald Tusk, who chaired an emergency summit of leaders of the 19-nation currency bloc, called the Greek proposals "a positive step forward". He said the aim was to have the Eurogroup finance ministers approve a cash-for-reform package on Wednesday evening and put it to euro zone leaders for final endorsement on Thursday morning.
However, there must first be a detailed agreement with representatives of European governments, the European Central Bank and the International Monetary Fund to ensure the numbers add up, he said.
European stock markets and Greek assets surged on Monday on hopes of a last-minute deal to ease a crisis that is threatening to drive Greece out of the euro and weaken the foundations of the European Union's single currency.
"I am convinced that we will come to a final agreement in the course of this week," European Commission President Jean-Claude Juncker told a late-night news conference.
German Chancellor Angela Merkel, whose country is Greece's biggest creditor, was more cautious. "I can't give any guarantee that that will happen," she said of a final agreement. "There's still a lot of work to be done."
The Greek proposals included higher taxes and welfare charges and steps to curtail early retirement, but not the nominal pension and wage cuts first sought by lenders. Leftist Prime Minister Alexis Tsipras, elected in January on a promise to end austerity measures, also appeared to have avoided raising value added tax on electricity or loosening job protection laws.
Tsipras said the ball was back in the creditors' court and they should provide a deal that would make Greece's huge debts affordable. "We are seeking a comprehensive and viable solution that will be followed by a strong growth package and at the same time render the Greek economy viable," he told reporters.
The cash-starved country must repay the IMF 1.6 billion euros by June 30 or be declared in default, potentially triggering a bank run and capital controls.
Jeroen Dijsselbloem, chairman of the euro zone finance ministers, known as the Eurogroup, described the new Greek document as comprehensive and "a basis to really restart the talks". He said negotiations in the coming days would show whether the numbers added up.
He left the summit saying only that there would be "hard work for the next few hours".
German Finance Minister Wolfgang Schaeuble was the most negative, telling reporters earlier in the day he had seen nothing really new from Greece.
Participants said Schaeuble questioned in the Eurogroup meeting whether the European Central Bank should continue emergency lending to Greek banks if there was no deal this week and whether it should not be accompanied by capital controls.
A Greek official said ECB chief Mario Draghi had reassured Tsipras in a private meeting that the central bank would continue to support Greek banks as long as Athens remained in a bailout programme. An ECB source said there was no direct link between the emergency liquidity assistance and the programme.
Participants said IMF chief Christine Lagarde cast doubt in the meeting on whether the proposals were sufficient to make Greece's public finances sustainable.
"We have a huge amount of work to do in the next 48 hours. We are not at all at the end of the route," Lagarde said on leaving the summit.
Tsipras had demanded a promise of debt relief as a condition for a deal, but both Merkel and Juncker said now was not the time to discuss it. An EU diplomat said Tsipras struck a very cooperative tone in the summit and promised to work further on the proposals to ensure a deal this week.
Juncker said he had proposed a 35 billion euro programme for growth-enhancing measures in Greece up to 2020. The money appeared to be a restatement of existing EU budget funds earmarked for Athens.
Tusk said he had called the summit to try to break the deadlock and avoid a worst-case "uncontrollable chaotic Grexit", while letting experts thrash out the details.
He called for an end to the "blame game" between Athens' young left-wing Syriza government, which sought to scrap the austerity measures that were a condition of past bailouts, and creditors who refused to keep funding Greece without being sure that its public finances are sustainable.
The U.S. government sought to pressure all sides to reach a swift agreement and avert a crisis that has been weighing on world markets.
U.S. Treasury Secretary Jack Lew urged Tsipras in a phone call to make a "serious move" at reaching a deal with Athens' creditors to avert "immediate hardship for Greece and uncertainties for Europe and the global economy". He also telephoned Lagarde to underline that all sides in the talks must come to a rapid agreement.
With anxious Greek savers continuing to withdraw cash, though apparently in smaller amounts on Monday than last week, the ECB increased its emergency lending to Greek banks for the third time in a week.
But after months of acrimony, the positive mood music in Brussels gave investors hope that an agreement might be near.
European shares [.EU] hit their highest level in a week and the Greek stock market .ATGjumped 9 percent while the borrowing costs of Italy, Spain and Portugal - the countries most likely to be hit if Greece headed for the euro zone exit - fell sharply. [GVD/EUR]
The DAX index of leading German shares closed up 3.9 percent and France's CAC 40 stock index was up 4.1 percent.
TAX AND PENSION REFORMS
In its proposal, Greece offered to raise the retirement age gradually to 67 and curb early retirement. It also offered to reform the value-added-tax system to set the main rate at 23 percent, and promised additional taxes on business and the wealthy.
Economics Minister George Stathakis told the BBC that Athens had avoided crossing "red lines" set by Syriza, since it would not cut pensions or wages or raise the VAT rate on electricity.
In an example of the anger that Athens has caused in northern Europe, Hans-Peter Friedrich, deputy parliamentary floor leader for Merkel's conservatives, said there was no point in "dragging out a bankruptcy for political reasons".
"We do the greatest harm to Europe if we lie to ourselves", he said, adding that he was sceptical that the Greek government would provide adequate assurances to win German parliamentary support for further aid.
Several thousand pro-European Greeks staged a demonstration in favour of staying in the euro on Monday in central Athens, a day after thousands of leftists had rallied to protest against a new round of cuts.
© Copyright IBTimes 2023. All rights reserved.