Greek Debt Crisis Update: Banks To Remain Closed Through Friday As Uncertainty Over Bailout Looms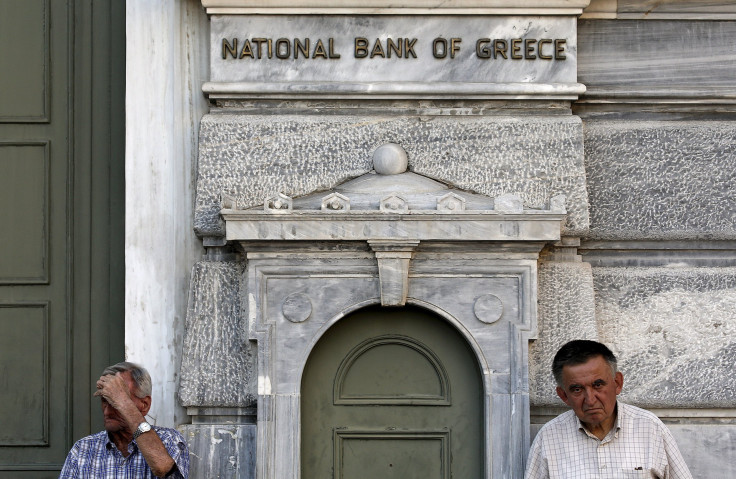 Greek banks will remain closed and cash machine withdrawals limited through Friday as uncertainty over the country's debt crisis worsens, a government source told Reuters Wednesday. Officials had said the banks would reopen Tuesday, but the timeline was then extended through at least Thursday, with a 60-euro ($66 USD) limit on ATM withdrawals per day. The latest extension could keep banks shuttered until next week.
The country's capital controls program, which has limited cash machine withdrawals, has also been extended through the end of the week. Some reports have indicated Greek banks might soon run out of dispensable cash. Many Greeks already started pulling out large amounts of euros in cash a week ago, before the capital controls were in place, meaning banks' cash reserves were already thinning before Greeks voted Sunday to reject the austerity terms of a European bailout, according to Bloomberg.
The bank holiday extension comes as Greece laid out its new, three-year bailout plan on Wednesday that would include "tax reform" and "pension-related measures," the brand-new Finance Minister Euclid Tsakalotos said in a statement. "Greece welcomes an opportunity to explore potential measures to be taken so that its official sector-related debt becomes both sustainable and viable over the long term," he wrote.
It's unclear what will happen next for Greece. All 28 European Union leaders are expected to gather at a summit on Sunday in a yet another bid to solve the Greek debt crisis. Greece's next payment deadline is in late July, when the country is supposed to repay the European Central Bank 3.5 billion euros, according to the New York Times.
Greece hopes to avoid being booted from the eurozone, something many Greeks consider a potentially disastrous outcome of the debt crisis. Defaulting on its loans could have serious consequences for Greece's economy and standing with other nations.
© Copyright IBTimes 2023. All rights reserved.