Greek Election Results 2015: Syriza Wins By Comfortable Margin In Historic Elections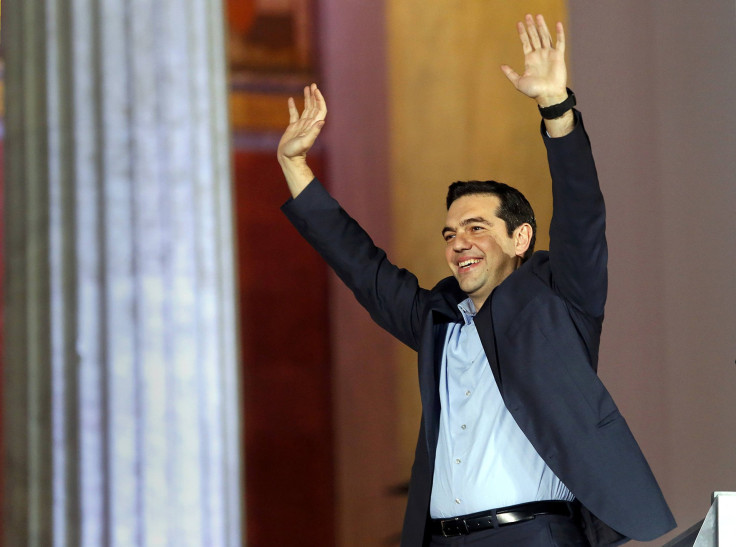 UPDATE 1:27 a.m. EST: The Syriza party won 149 seats in the 300-seat Greek parliament in Sunday's election, Reuters reported, adding that the radical leftist party's victory followed years of austerity policies demanded by the European Union and International Monetary Fund after the country's economy received a 240 billion-euro bailout ($269 billion) in the fallout of the global financial crisis.
Alexis Tsipras, the party's leader would now move to form a government Monday by meeting with the Independent Greeks party that also opposes Greece's bailout deal, the report added.
"Greece leaves behind catastrophic austerity, it leaves behind fear and authoritarianism, it leaves behind five years of humiliation and suffering," Tsipras reportedly told thousands of supporters in Athens on Sunday.
UPDATE 5:10 p.m. EST: Leftist leader Alexis Tsipras declared victory Sunday in Greece's parliamentary elections. With 60 percent of the vote counted, Tsipras' anti-austerity Syriza party had captured 149 seats in the 300-seat parliament, garnering 36.1 percent of the vote, Reuters reported.
Tsipras said he would co-operate with eurozone leaders to find a solution to Greece's economic problems. "Our priority from the very first day will be to deal with the big wounds left by the crisis," he said. "Our foremost priority is that our country and our people regain their lost dignity."
UPDATE 3:15 p.m. EST Official government projections give Syriza 149-151 seats in the 300-member parliament, Reuters reported. Also notable is the nearly complete rejection of former Prime Minister George Papandreou's comeback Movement of Democractic Socialists party. Papandreou resigned as prime minister in 2011 during the political upheaval as Greece negotiated a multibillion-euro bailout deal with the European Council, International Monetary Fund and European Central Bank.
Syriza vows to renegotiate the bailout terms and lift austerity measures, which have devastated working-class Greeks and led to Syriza's massive growth in popularity in the last four years.
UPDATE 2:45 p.m. EST: Updated exit polls give the anti-austerity leftist Syriza party a 10-point lead in Sunday's snap parliamentary elections in Greece and could mean Syriza will win an outright majority. Reuters reported Syriza was on track to capture as much as 38 percent of the national vote versus 28 percent for the conservative New Democracy party. The win could give Syriza as many as 154 seats in the 300-seat parliament but the outcome will depend on how many seats former Prime Minister George Papandreou's center-left party captures. Voters elect 250 members to parliament; 50 others are given as a bonus to the party receiving the most votes.
UPDATE 2:12 p.m. EST: With 17.66 percent of the votes counted, Syriza has 35.03 percent, New Democracy has 29.31 percent, Golden Dawn has 6.29 percent.
Interesting to note, the Communist party has 5.3 percent. Syriza has communist roots. Worth watching how these two parties interact.
UPDATE 1:45 p.m. EST: The leftist Syriza party won a convincing victory in Sunday's Greek parliamentary elections, exit polls indicated, but it still was unclear what the margin of victory would be. "We lost," Health Minister and conservative New Democracy party parliamentary spokesman Makis Voridis told Mega TV, the Associated Press reported. "Our role will be the one the Greek people assigned to us: the major opposition party. From this standpoint, we will critique the [new] government's policies, remaining true to our principles."
Original post:
Greece's far-left Syriza party, which seeks to renegotiate Greece's loan deals with Europe's central authorities, won the largest share of seats in the Hellenic Parliament in historic elections Sunday, capturing 35.5 percent to 39.5 percent share according to exit polling. Syriza's victory made Greece the first European Union member state with a leading party openly seeking to fight austerity, according to Reuters.
The conservative New Democracy party of outgoing Prime Minister Antonis Samaras captured just 23 percent to 27 percent of the vote. The final results are dependent on the percentage captured by former Prime Minister George Papandreou's center Movement of Democratic Socialists, Reuters said.
Syriza is popular with working-class Greeks suffering under austerity terms the European Central Bank, European Council and the International Monetary Fund, often called the Troika, required in return for more than 200 billion euros in bailout deals in 2010 and 2011 to save the Greek economy from completely collapsing. The Greek government was forced to cut public sector funding and pensions, leading to violent protests. The unemployment rate rose from little more than 10 percent in early 2010 to more than 25 percent in 2014.
The win was expected as polls showed Syriza pulling away from the ruling New Democracy as the elections drew closer (figs). The snap elections were called after Samaras was unable to form a government, a constitutional requirement in Greece.
Syriza is led by Alexis Tsipras, 40, who will now attempt to form a government. Tsipras did not indicate prior to the elections whether or not he would seek to form a government alone or if Syriza would form a coalition with another party. Syriza won the second-most parliamentary seats in the 2012 elections.
If Syriza follows through with its campaign promises, it will seek to negotiate an easing -- or complete end -- to the austerity measures. Tsipras threatened to leave the Eurozone altogether, which would be a devastating blow to the EU economy.
© Copyright IBTimes 2023. All rights reserved.