Groundhog Day 2015: Punxsutawney Phil Sees Shadow, Predicts 6 More Weeks Of Winter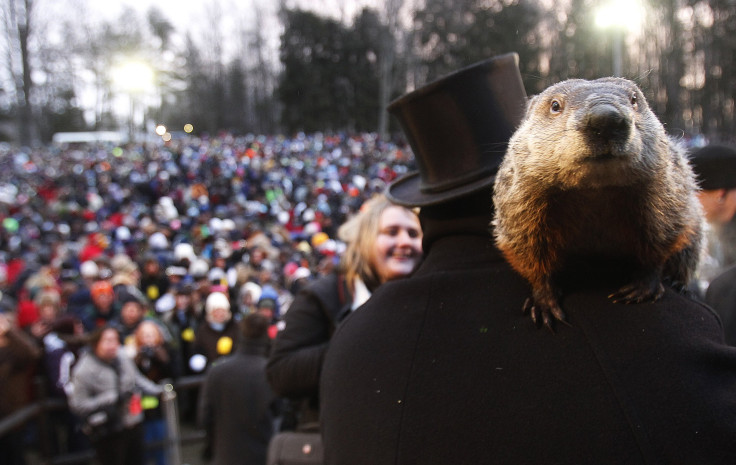 Famous groundhog Punxsutawney Phil allegedly saw his shadow Monday morning at Gobbler's Knob in Punxsutawney, Pennsylvania. According to German legend, that means another month and a half of cold temperatures. Monday was the 102nd time since 1887 that Phil has forecast an extended winter, the Associated Press reported.
But don't bundle up just yet. If you're not looking forward to another six weeks of freezing weather, there is room for speculation. Tradition goes that Phil climbs out of his burrow, looks at his shadow and forms a forecast he then communicates in Groundhogese to the president of the Punxsutawney Groundhog Club's Inner Circle. The president translates the announcement into English for onlookers at the 7:30 a.m. prognostication event.
The process is not foolproof. The Washington Post reported Monday that skies were overcast, so it's not clear how Phil saw his shadow. In 2013, after Phil was criminally indicted for falsely predicting an early spring, the Inner Circle's president said he must have misinterpreted the groundhog.
Phil has seen his shadow only 17 times in history. His prediction is correct "100% of the time, of course," according to his official website, but AccuWeather said the figure was more like 80 percent.
If you don't like Phil's 2015 prognostication, you can look to other famous groundhogs for a more favorable forecast. Meteorologically inclined marmots include Staten Island Chuck in New York City, Jimmy in Wisconsin and General Beau Lee in Georgia.
Unfortunately, no matter which animal you choose to believe, winter probably isn't over yet. "While Groundhog Day is a way to have a little fun at midwinter, climate records and statistics tell us that winter probably isn't over," the National Oceanic and Atmospheric Administration wrote on its Web page for the holiday. "Climatologically speaking, the three coldest months of the year are December, January and February, so winter typically still has a bit to go when the groundhog comes out in search of his shadow on Feb. 2."
© Copyright IBTimes 2023. All rights reserved.