'Groundhog Day' Movie Put Punxsutawney On The Map For Pennsylvania Visitors Nationwide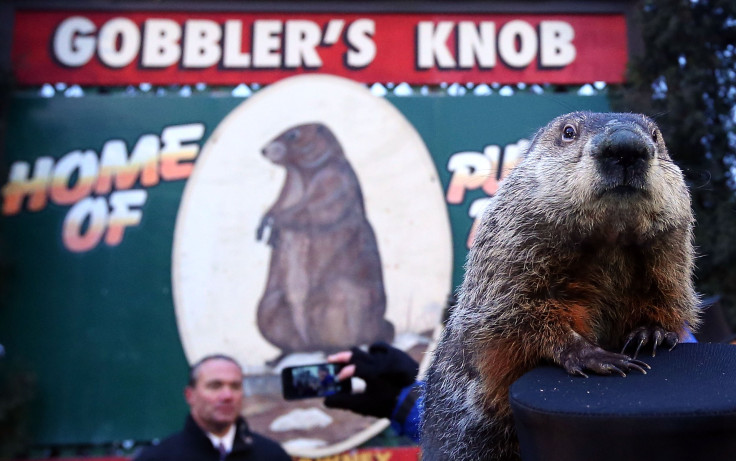 Ever since the 1993 film "Groundhog Day" starring Bill Murray hit theaters, the quaint Pennsylvania borough of Punxsutawney has seen a spike in tourism. While the comedy wasn't actually filmed in Punxsutawney, which is nestled 90 miles northeast of Pittsburgh, people from around the country each year visit to partake in the famous Groundhog Day event every Feb. 2.
"The first Feb. 2 that was on a weekend following the movie, we saw about 30,000 visitors," said Michele Neal, executive director of the Punxsutawney Chamber of Commerce. On average, the borough sees some 7,000 to 10,000 people in attendance at Gobbler's Knob where the annual Groundhog Day ceremony takes place, Neal said.
Gobbler's Knob sits in a small clearing at the crest of a wooded hill, about two miles east of town. Each year on Feb. 2, people gather at the Knob before winter sunrise and wait for legendary groundhog Punxsutawney Phil to emerge from his temporary home. If Phil sees his shadow and returns to his hole, he has predicted six more weeks of winter. If Phil does not see his shadow, he has predicted an early spring. Punxsutawney then celebrates their beloved groundhog with music, food and other festivities. Phil's forecast is a long-standing tradition that has been celebrated in the United States and Canada since 1887, according to the Punxsutawney Groundhog Club.
Neal said nearby towns also benefit from the overflow of visitors during the event in Punxsutawney, which has a population of less than 6,000. "Groundhog Day helps the economy in the surrounding areas as well as Punxsutawney, as we only have one hotel, one motel and a couple of bed-and-breakfasts in the area," she said.
The area has also seen year-round tourism since the movie premier of "Groundhog Day," in which Murray plays a cynical Pittsburgh weatherman who finds himself in a time loop while covering the annual Groundhog Day event in Punxsutawney. Many visitors come during the summer months to hike, explore the area's rich history and to see Phil, who lives at the so-called Groundhog Zoo in the Punxsutawney Memorial Library. "This is just a small sampling of what Punxsy has to offer," Neal said.
© Copyright IBTimes 2022. All rights reserved.
FOLLOW MORE IBT NEWS ON THE BELOW CHANNELS