Guardian Reporter Mocks Chelsea Manning's Solitary Confinement; Gets Dressed Down By Boss
Several Guardian staffers played a game of delete-the-tweet on Wednesday and Thursday, one colleague attacking the other until all the posts were taken down. The episode began after reporter Ben Jacobs tweeted, then quickly deleted, an attack on a high-profile colleague, former Army private Chelsea Manning.
News broke this week that Manning, currently serving a 35-year sentence for leaking a trove of classified documents through WikiLeaks in 2010, now faces solitary confinement at Fort Leavenworth for, among other things, keeping style magazines in prison.
Linking to a Guardian article reporting the news, Jacobs shot off a tweet at his colleague's expense on Wednesday evening.
"And the world's tiniest violin plays a sad song," Jacobs tweeted, referencing Manning, who joined him at the Guardian US in February as an unpaid columnist.
A screenshot of his deleted tweet survived, and soon Twitter users were piling on Jacobs for mocking Manning's confinement. He didn't directly acknowledge his remark but followed up with a tweet saying he was drawing strength from a piece on "haters" by his former Daily Beast colleague, Eli Lake, who is now a columnist at Bloomberg View.
At about 2 p.m. EDT on Thursday, Guardian editor Matt Wells, who is based in London, stepped in to say he agreed with those criticizing his colleage Jacobs. That tweet, too, ended up deleted an hour later.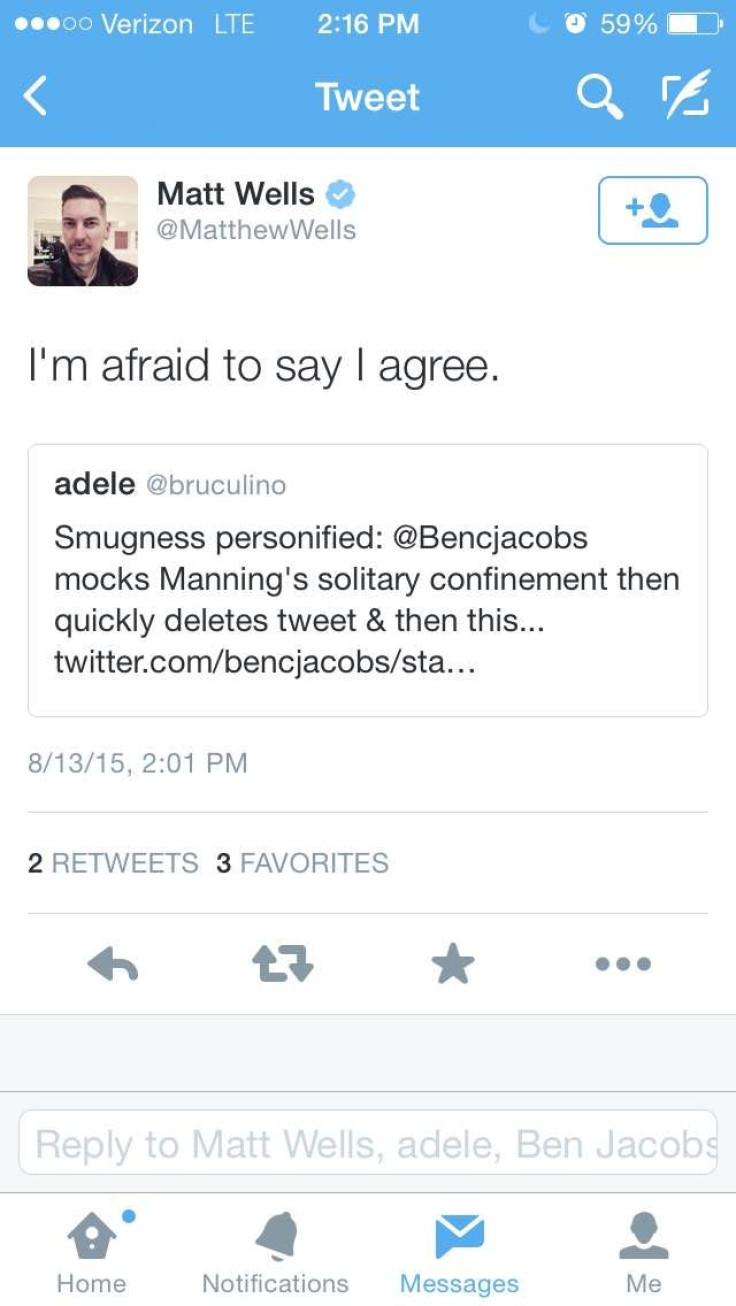 When the International Business Times asked about the spat between three Guardian employees, a Guardian US spokesperson called Jacobs' tweet "inappropriate" and said he had since personally apologized to Manning for the mockery.
"A Guardian reporter sent an inappropriate remark in relation to a fellow Guardian writer via his personal Twitter account," the spokesperson said. "Realizing it was inappropriate, he deleted the tweet. He has since reached out privately to apologize for his remark."
"His apology was sent to Chelsea Manning's representatives," the spokesperson added.
© Copyright IBTimes 2023. All rights reserved.
FOLLOW MORE IBT NEWS ON THE BELOW CHANNELS