Guatemala Elections 2015: What President Pérez Molina's Resignation And Corruption Scandal Means For The Country's Political Future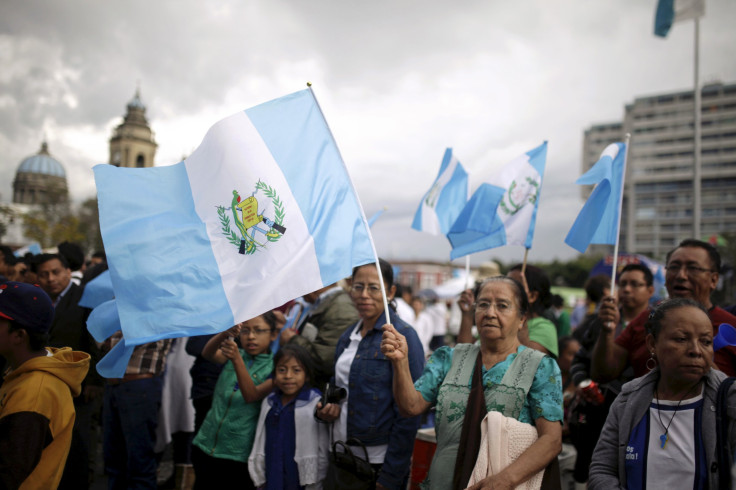 Guatemalans are due to head to the polls Sunday for general elections, just days following the resignation of President Otto Pérez Molina after a judge issued a warrant for his arrest in a corruption scandal. Weekly protests have demanded Pérez Molina's resignation since April, and now, as the country moves toward it's next election, its fragile democracy faces a test, even as some hail recent events as progress in their own right.
In the elections, Guatemalans will choose a new president, vice president, 158 members of Congress, 20 members of the Central American Parliament and local officials. A second round, if needed, is scheduled for Oct. 25.
Although developments over the past months, including Pérez Molina's arrest, have been hailed as representing a turning point for Guatemala, how quickly and successfully the country will be able to implement lasting reforms remains to be seen. The rapid approach of elections in particular highlights uncertainties in the process — and the possibility that celebrations of progress may be premature.
"At their finest moment, Guatemalans are faced with this really difficult choice between candidates who may not lead to the kinds of changes that people have been fighting for," Eric L. Olson, a scholar at the Mexico Institute of the Wilson Center in Washington, told the New York Times.
Guatemala Overview | FindTheData
Some 14 political parties have nominated candidates for president, People's World reported. The daughter of the notorious dictator Efrain Rios Montt, who has been charged with genocide during his rule in the early 1980s, is one of them. A leading presidential candidate is Manuel Baldizon, a businessman allied with Pérez Molina's party, whose own nominated deputy has been implicated in a separate corruption case.
Average voter turnout in Guatemala, a country of 14.6 million, is 58 percent, according to the International Foundation for Electoral Systems, a nonprofit based in Washington.
In the run-up to the elections, the abuse of journalists has also shadowed celebrations of Guatemala's democratic progress.
"Journalists have been pressured and harassed by both government officials and candidates in the run-up to general elections," the rights group Reporters Without Borders said Thursday. One journalist was attacked by bodyguards of Vice President Edgar Barquin, another received death threats from a mayoral candidate, and the National Civil Police have physically attacked reporters. In 2015 alone, Guatemala has counted 74 reported direct attacks on journalists and two deaths.
How Guatemala Got To This Point
In 1951, leftist Jacobo Arbenz was elected president of Guatemala. He pushed agrarian reforms, giving land to peasants in an effort to foster the growth of a middle class. That irked the U.S.-owned United Fruit Company in the process, and in 1954, the U.S. Central Intelligence Agency orchestrated a military coup. Arbenz fled, and for the next three decades, the military ruled Guatemala and a civil war that included forced disappearances, civilian massacres and genocide of the indigenous Indians ravaged the country.
It was not until 1996 that a peace treaty was signed, but reparations to the victims of the war have been slow to come to fruition, as crime and corruption remain widespread in Guatemala's legal system. However, some cases, such as the investigation that led to the resignation of Pérez Molina, suggested that problem could, by degree, be changing.
After months of saying he would not do so, Pérez Molina resigned Wednesday night and turned himself to the courts the following day. He is now in a jail in Guatemala City on charges of customs fraud, illicit association and passive bribery. Vice President Alejandro Maldonado Aguirre, named interim president until January, was sworn in Thursday.
Protesters celebrated outside the courtroom after Pérez Molina's hearing in Guatemala City Thursday, after months of weekly protests calling for him to step down. Pérez Molina was the first president to ever step down in Guatemala as part of a corruption scandal.
In the scheme, "La Linea," officials allegedly took bribes to charge certain importers lowered tariffs. Several high-profile government officials had already been linked to the case, including Vice President Roxana Baldette, who stepped down in May. She was arrested in mid-August and charged with customs fraud and passive bribery, among other crimes.
"What has happened in Guatemala in recent years is quite remarkable," Stephen Schlesinger, a fellow at the Century Foundation and a co-author of a history of the U.S. coup in Guatemala, wrote Thursday in an opinion letter published by the New York Times. The United Nations and the investigative agency it backs, the International Commission Against Impunity in Guatemala, had been working determinedly "to root out crime in high places in that previously lawless land."
The International Commission Against Impunity in Guatemala, established in 2006, played a significant role in quelling organized crime, after which it turned to "impunity and corruption, leading to the cascade of disclosures that have roiled the government," an editorial in the Miami Herald noted Thursday. But, it warned, "It's too soon to say whether these dramatic developments mark a turning point in Guatemala's political trajectory.
© Copyright IBTimes 2023. All rights reserved.