Guinea Presidential Election 2015: Curfew Imposed Amid Violent Clashes Between Supporters Of Conde And Diallo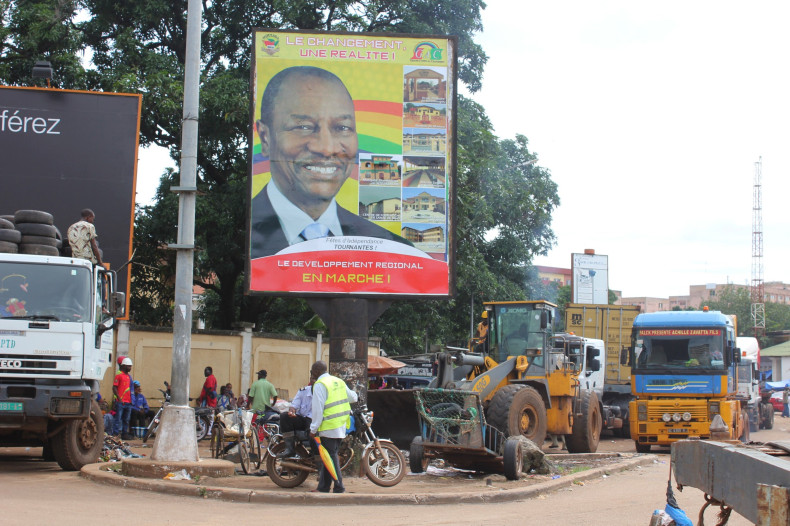 Authorities in Guinea imposed a curfew in the city of Nzerekore overnight Monday following violent clashes between rival political groups ahead of the presidential election. Dozens were injured in fighting over the weekend and local media sources said one person was killed, according to Reuters.
"The situation is very, very serious. We have 29 people with gunshot injuries," Aboubacar Mbopp Camara, prefect for Nzerekore, told reporters Monday.
Medical charity Alliance for International Medical Action said on Twitter Monday that more than 80 people had been admitted to its local hospital for a range of injuries inflicted by bullets, stones and batons.
Opposition groups in the African nation have called for the election, scheduled for Sunday, to be postponed over alleged irregularities in the process. They have accused the government of failing to honor an August agreement to reshape the electoral commission and to give opposition parties a greater voice in local governments to ensure a fair election.
Residents told Reuters Monday the violent riots had pitted supporters of President Alpha Conde's Rally of the Guinean People party against those of his main rival, Cellou Dalein Diallo, of the Union of Democratic Forces of Guinea. A spokesman for the Union of Democratic Forces of Guinea last week threatened protests if Conde was declared winner in the first round without facing Diallo in a runoff. The opposition party also accused Conde of using ethnic politics to sunder the West African nation.
Conde, who is running for a second term, banks on his Malinke ethnicity, as the Malinkes account for 30 percent of Guinea's 10 million people. Meanwhile, Diallo draws support from Guinea's largest ethnic group, the Fulani or Peuhl, who account for 40 percent of the population. Conde, who is largely expected to win Sunday's vote, won the 2010 election after a second-round runoff against Diallo, according to BBC News.
The former French colony has a long history of political and ethnic tensions between these two groups, but the upcoming election has exacerbated the situation. The European Union called the election campaign "extremely tense" and urged actors to refrain from violence, Reuters reported.
About 50 people were killed in ethnically fueled, anti-government protests leading up to legislative elections in 2013, in which Conde's ruling party failed to win a majority.
© Copyright IBTimes 2022. All rights reserved.