Goodluck Jonathan's Nigeria Petroleum Minister, OPEC President Arrested For Corruption: Report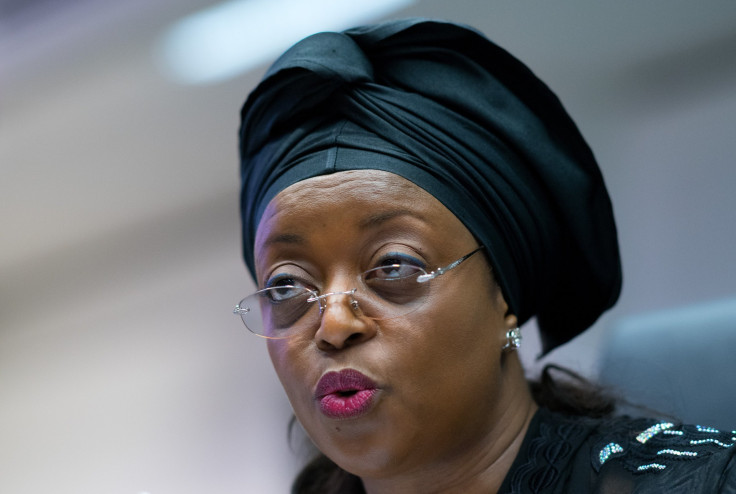 Diezani Alison-Madeuke, the current president of the Organization of the Petroleum Exporting Countries, or OPEC, and Nigeria's former petroleum minister who served under President Goodluck Jonathan, was reportedly arrested Friday morning along with four others in London by British authorities. The United Kingdom's National Crime Agency arrested Alison-Madeuke for crimes related to bribery and corruption, according to Nigerian newspaper Premium Times.
The National Crime Agency told International Business Times its recently formed International Corruption Unit had arrested five people across London Friday as part of an investigation into suspected bribery and money laundering offenses. However, the U.K. law enforcement agency could neither confirm nor provide information on the identities of the individuals arrested.
Alison-Madueke has been the subject of controversy in the last several years. She has been accused of reckless government spending, mismanagement of the oil sector and using millions of dollars in public funds to pay for luxuries such as private jets. The Nigerian Senate indicted Alison-Madueke in 2009 and recommended prosecution for her alleged transfer of $6 million, or 1.2 billion naira, into the private account of a toll company without due process. She was probed by the Senate in 2008 following accusations she had paid 30.9 billion naira, or $155 million, to contractors while she was serving as transport minister in 2007.
Under Alison-Madueke's watch, Nigeria's state-owned oil company, the Nigerian National Petroleum Corporation, allegedly stole billions of dollars from government coffers. President Muhammadu Buhari, who took office in May, has vowed to trace and recover the looted funds and hold those accountable. He said he also intends to appoint himself as petroleum minister in his new cabinet.
Alison-Madueke became the first female president of the OPEC, the 12-nation oil cartel, in November 2014. She has never been tried for or convicted of corruption and has fiercely denied any accusations of wrongdoing.
"I was accused of unsavory things, but which were actually accusations against NNPC and the audit was deployed to clarify all these things. So let us deal with the issues," she told Nigerian newspaper THISDAY in June. "I have never gone around accusing people of doing this or that; I have always stuck with the issues. Even when I was the most abused minister, I was professional. I stuck to the issues and responded only to the issues."
© Copyright IBTimes 2022. All rights reserved.
FOLLOW MORE IBT NEWS ON THE BELOW CHANNELS