Gun Control Debate: Reform Appears Doomed In Congress But States Make Progress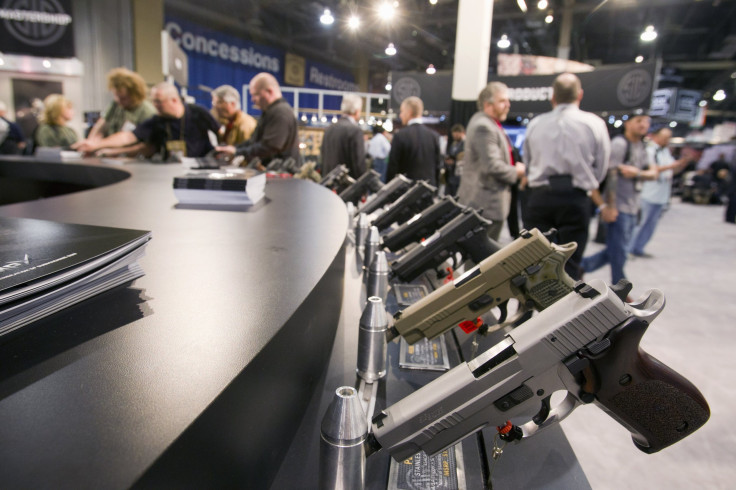 Three months after a young gunman murdered 26 children and teachers at the Sandy Hook Elementary School in Newtown, Conn. -- sparking a nationwide debate about gun control in America -- certain efforts to implement reasonable reform appear doomed in a largely divided Congress.
Some measures that would address specific elements of the Newtown massacre are in peril as Democrats seek to strengthen the party's chances of passing legislation on gun control. Days after an assault weapons ban bill by Sen. Dianne Feinstein, D-Calif., passed the Senate Judiciary Committee along party lines (10 to 8) to head to the full Senate, there is doubt about its chances for survival.
Feinstein's bill would ban the sale and manufacture of 157 military-style assault weapons and restrict large-capacity magazines and other feeding devices that hold more than 10 rounds. However, the assault weapons bill will not be a part of the Democratic gun control package and will instead be offered as an amendment, according to Politico.
Senate Majority Leader Harry Reid, D-Nev., shot the bill down. He also didn't vote for the original assault weapons ban in 1994, which expired 10 years later.
"My understanding is it will not be [part of the base bill]," Feinstein said. "It will be separate."
Feinstein said she is concerned because she would like to see her bill move forward. However, "the leader has decided not to do it. You will have to ask him."
Among the other Democratic bills under consideration next month are: impose stricter penalties for straw purchasing and gun trafficking; expand background checks to include private gun sales; and increase federal spending on school-safety programs.
Republicans are giving each of those measures -- except the trafficking bill -- a tough fight, creating more uncertainty about their passing the full Congress.
Earlier this month, the Senate Judiciary Committee gave bipartisan support to the bill that would punish straw purchasers and those who illegally sell weapons and make gun trafficking a federal crime. The bill resulted from a merger of two competing measures – one from committee Chairman Patrick J. Leahy, D-Vt., to add punishment for straw purchasers and the other from Sen. Mark Kirk, R-Ill., to punish those selling weapons to a straw purchaser.
This latter bill looks like it may be more focused on the government's gunwalking operation called Fast and Furious rather than Sandy Hook. Republicans have long pressed the Obama administration about the failure of the operation, which basically put guns in the hands of criminals in order to trace them to higher-placed drug bosses. However, the Bureau of Alcohol, Tobacco, Firearms and Explosives lost track of the hundreds of weapons that were linked to crimes, as well as to the death of a U.S. border patrol agent in 2010.
The Democratic-sponsored background check bill (introduced by Sen. Chuck Schumer of New York) and school safety bill (introduced by Sen. Barbara Boxer of California) were also approved by the committee earlier this month.
Regarding Schumer's bill, which lacks bipartisan support, Republicans argue that criminals will care less about background checks. They say it only places more burden on gun owners and would not reduce gun violence.
"Why would anyone think that criminals would comply with broader background-check requirements?" Sen. Charles E. Grassley, R-Iowa, asked. "They would be drawn more to straw purchases."
Schumer was trying to get Tom Coburn, R-Okla., to broker a background check bill with him but those talks have since failed.
As for the school safety measure, Boxer originally wanted the reauthorizing and expanding of the Justice Department program to the tune of $100 million, but brought that number down to $40 million to attract bipartisan support. Securing school grounds is something the gun rights lobby has said it could get in line with, but Boxer's bill isn't as extreme as having armed guards at schools, as put forward by the largest pro-gun organization, the National rifle Association.
Policy groups such as the Coalition to Stop Gun Violence, or CSGV, are less concerned about how lawmakers package gun control. They just want the bills to go for a vote.
"That's all we can ask for on these things," said Josh Horwitz, executive director of CSGV. "Ultimately, the majority has to figure out how to move forward. Win or lose, we want to know who is against us. That's the way progress is made."
Horwitz, who hasn't been closely following the school safety bill, believes background checks will pass because the concept is supported by a majority of Americans. The assault weapons ban and background checks are both supported by the Obama administration. If they don't make the cut, it would appear to some that there was some failure at the federal level.
But Horwitz said the progress already made by Congress – the hearings and Senate discussions – is extraordinary.
"That's how you get stuff done," he said. "If you don't have the discussion we can't get things done. … Win or lose that's how policy is made. Constituents will judge their members on what they voted for."
State Responding Differently But Making Progress
At the state level, the response to Sandy Hook also varies.
As it waits for the federal government to act, Colorado, which has witnessed two of the deadliest mass shootings in American history, will sign three gun control bills into law this week. It is a big step for a state where hunting and sport shooting are very common recreation activities. Democratic Gov. John Hickenlooper is expected to sign legislation for a 15-ammunition limit on magazines; a universal background check for those who want to buy guns; and for gun buyers to pay for their own background checks.
Other states are on the opposite side.
Some jurisdictions in Georgia are considering forcing mandatory gun ownership for all residents. In Nelson City, officials have proposed such an ordinance and could decide in a meeting in April.
Correction: In a previous version of this story Josh Horwitz was quoted as saying the school safety bill will probably pass, but that has since been amended to reflect Horwitz hasn't been closely following that bill.
FOR FREE to continue reading
✔️ Unlock the full content of International Business Times UK for free
offer available for a limited time only
✔️ Easily manage your Newsletters subscriptions and save your favourite articles
✔️ No payment method required
Already have an account?
Log in
© Copyright IBTimes 2023. All rights reserved.