Haiti Protests Dominican Republic Racism Against Immigrants After Henry Claude Jean Lynching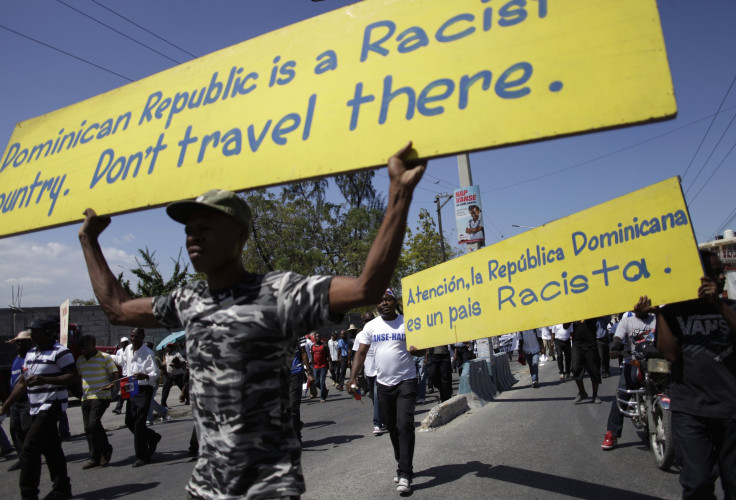 Thousands of demonstrators marched Wednesday in the Haitian capital of Port-au-Prince to protest ongoing mistreatment of Haitians living in the nearby Dominican Republic, reports said. The protest unfolded just days after a Haitian immigrant was found lynched in a public square located in the Dominican Republic city of Santiago.
Local lawyers and civil rights groups joined forces to organize the march, which remained largely peaceful, according to the Associated Press. No arrests were made as citizens from all walks of life waved Haitian flags and marched on the Dominican Embassy.
"Despite our diversity, despite our differences, we are a country, we exist and we deserve respect. We are neighbors, sharing the same island. The question of racism and barbarism need to be finished with on this island," said Monsignor Pierre-André Dumas, one of the march's organizers, according to the Miami Herald.
While no acts of physical violence were reported, one protester reportedly climbed onto the embassy building and seized a Dominican flag, which was then burned by a crowd of demonstrators. Protesters also pursued a woman whom they thought to be Dominican. The march's leaders admonished the individuals who took part in the flag burning. "We strongly condemn this. A country's flag is its symbol and needs to be respected. We cannot answer one act of barbarism with another," Dumas said.
Tensions between Haiti and the Dominican Republic have risen in recent months amid a backlash within the Dominican Republic against Haitian immigrants living in the country, according to Al Jazeera America. Earlier this month, a group of Dominican protesters spoke out against Haitian transplants and burned a Haitian flag in Santiago.
A Haitian man named Henry Claude Jean, who worked as a shoe-shiner, was found lynched in Santiago on Feb. 11. Authorities in the Dominican Republic said Jean was killed during an attempted robbery of a winning lottery ticket he had in his possession, but critics said the murder was racially motivated.
The Dominican Supreme Court ruled in 2013 that individuals born to immigrants who live illegally in the Dominican Republic weren't guaranteed citizenship. The ruling retroactively applied to individuals of Haitian descent born in the country since 1929. Ultimately, officials submitted to an international outcry and allowed these individuals to apply for citizenship, provided they obtained a birth certificate by Feb. 1. About 500,000 Haitian immigrants live in the Dominican Republic, according to the United Nations.
© Copyright IBTimes 2023. All rights reserved.