Hanukkah Recipes 2016: Easy Latkes, Sufganiyot, Noodle Kugel And More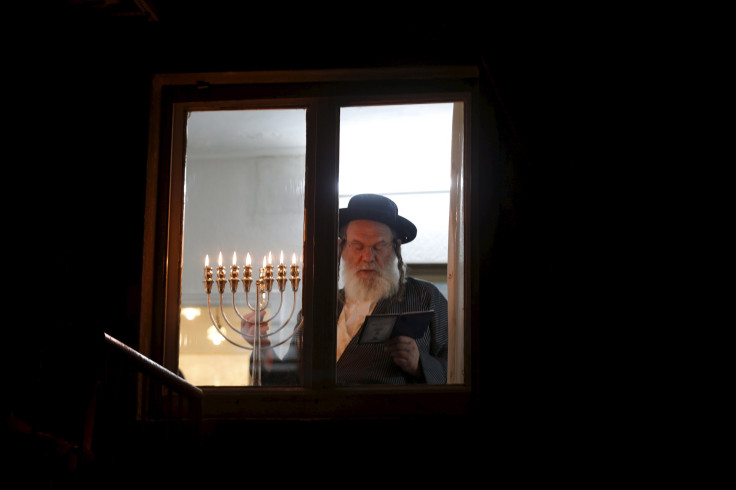 If you're not already in the holiday spirit, there's a simple solution: start eating. Hanukkah, the Jewish festival of lights, starts Saturday, and there are several foods associated with the holy celebration. Whether your family and friends lean toward traditional treats or contemporary cooking, everyone can come together in the kitchen.
Here are five easy recipes to try out, with sources linked:
Latkes
The New York Times recipe for latkes instructs you to use a food processor to grate two large, peeled potatoes and one large, peeled onion. Then place the shreds in a towel and squeeze out the liquid. Mix together the potato-onion combination with two eggs, a half cup of flour, two teaspoons of kosher salt, one teaspoon of baking powder and a half teaspoon of pepper. Then fry in oil, allowing the latkes to cook for five minutes on each side.
Noodle kugel
This recipe from Dave Lieberman wants you to boil a half pound of kosher egg noodles in salted water, then strain and mix the pasta with a half stick of butter, a pound of cottage cheese, two cups of sour cream, six eggs, a half cup of sugar, a teaspoon of cinnamon and raisins. Transfer into a 9-by-13 pan and bake for up to 45 minutes at 375 degrees.
Easy crunchy mustard-baked salmon
Serious Eats' recipe recommends you use a food processor to make crumbs from two pieces of bread, then mix with a tablespoon of salted butter, a half tablespoon of Dijon mustard, one teaspoon whole grain mustard, one teaspoon of fresh thyme, salt and pepper. Take two boneless, skinless filets of salmon and butter the bottoms. Cook on medium-high heat for two minutes with the butter side down. After that, broil for up to five minutes.
Sufganiyot
This recipe from King Arthur Flour says to whisk together two cups of flour, two tablespoons of sugar, 1 1/2 tablespoons of baking powder and 1/2 teaspoon of salt in one bowl and 1 cup of warm milk, 1/4 cup melted butter, one teaspoon of vanilla extract and one egg in another. When done, mix the contents of the bowls to create a batter. Form small balls and fry in oil. Then let cool. Pipe full with jelly and dust with white sugar.
Manischewitz sangria
This cocktail, from the Smithsonian Magazine, will surely make dealing with distant relatives a lot easier. In a punch bowl, arrange cut-up chunks of fresh apple, grapes, limes and oranges. Over it, pour three parts of Concord grape Manischewitz, two parts pineapple-orange juice, one part lime juice and one part lemon juice. Add a half a shot of brandy for each serving, then stir in one part seltzer water. Enjoy.
© Copyright IBTimes 2023. All rights reserved.